Student Showcase Research
Students produce research as part of international project on Media, Conflict and Democracy
Hamburg students in the class 'MeCoDEM', linked to an international research project of the same name, have shared their research findings in a poster presentation session. Here is an overview of some of the presentations.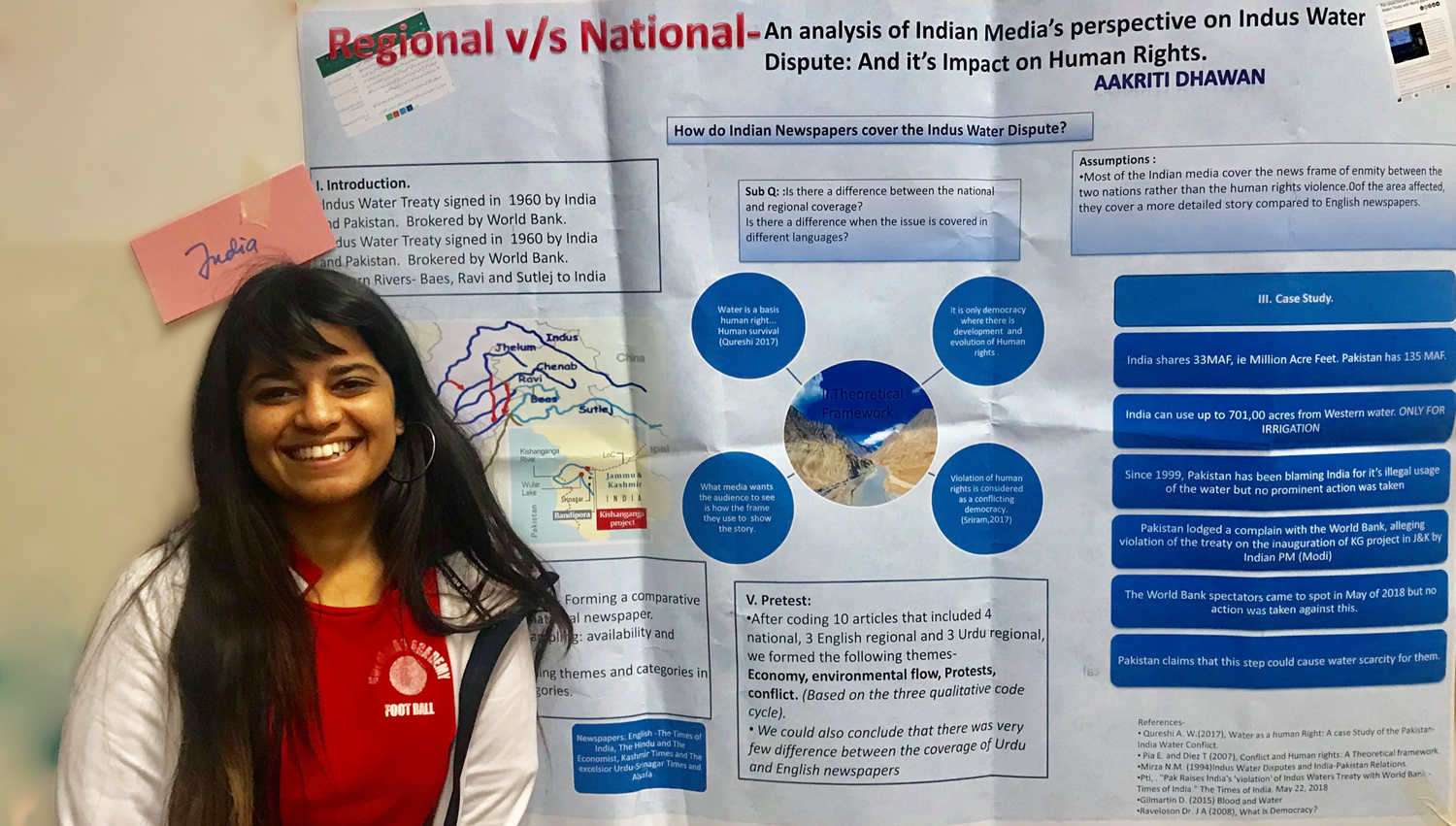 The MeCoDeM course is an extension of an international research project which investigated the role of traditional media and ICTs in Egypt, Kenya, Serbia and South Africa during conflicts that accompanied and followed transitions from authoritarian rule to more democratic forms of government.
This course is taught to Mundus Journalism students by Dr. Irene Neverla, who was one of the lead researchers on this project.
MeCoDEM trains students to take a global approach toward researching the functions and working of media in world democracies through a hands on experience of conducting empirical research.
At the end of semester the class finishes with a poster presentation, which over the past few years has created a rich tapestry of research outputs covering media systems around the world. In the wrap-up session this year, students presented research on media in democracies in Asia, Eastern Europe, South Asia and Latin-America.
Here is a short overview of some of this year's posters:
Undercovering gender in rape reporting: Analysis of the effect of journalists' gender logic on reporting rape cases in India and the US
Annabell Brockhues, Shubham Kaushik, Jelena Malkowski and Konstanz Nastarowitz
Abstract: This study aims at understanding whether male and female journalists in the US and India tell the stories of rape in their respective countries differently depending on their own gender. A quantitative content analysis of 20 newspaper articles on the coverage of two highly mediated rape cases in each country was conducted for this study. To enable further discussion of the editorial decision making process of the journalists, reconstructive interviews were conducted within the sample.
The pretest of the analysis of articles indicates that in the US, there is no striking difference in the coverage of rape among male and female journalists. In India, coverage of rape stories differs by gender. Coverage of rape by female journalists is more emotional as compared to the coverage by male journalists. Findings from reconstructive interviews indicate that in US, there is a lack of training for covering rape stories specific to the case chosen whereas in India, such trainings and workshops are provided by the media organisations.
The Mayor and the Myth: Framing populist presidential candidate on Fillipino and Brazilian TV news
Liana Barcia, Anne-Kristin Berger and Jose Gabriel Navarro
Abstract: This study aimed to find out how the prime time television news programmes in Brazil and Philippines covered the presidential campaigns of their respective populist presidents Jair Bolsonaro and Rodrigo Duterte.
A qualitative content analysis was conducted for the news clips of the most influential news programmes from both countries. The selected news programmes went on air during the respective presidential elections period in 2016 and 2018. Findings indicate that the Philippines television represented the then presidential candidate Rodrigo Duterte as a simple and friendly man and framed a scandal which involved him making a rape joke as a campaign event rather than a women's right issue. The analysis of the Brazilian news programme indicate that the television represented the then presidential candidate Jair Bolsonaro, as a family man and framed reaction to an attack which was carried out against him as 'defence of democracy'.
Media and democracy in the context of conflict: A case study of language quotas on Ukranian TV
Kostiantyn Yanchenko
Abstract: In October 2018, Ukraine introduced a law that allows a minimum percentage of Ukrainian language to be used on Ukranian television. The failure to comply with the percentage or quota of Ukrainian language would have legal consequences. The law on language quota started a discussion among Ukrainian politicians, media professional and public foregrounding identity conflict in Ukraine. Guided by a discourse approach, this is an exploratory study which focuses on the influence of the language quota law on journalist's practices and journalist's perception of the language quota law in predominantly Russian-speaking regions in Ukraine. In this study, In-depth qualitative interviews were conducted with 4 Ukrainian television journalists on skype.
Findings of this study indicate that young Russian speaking Ukrainian journalists did not find the transition from Russian language to the Ukrainian language difficult. However, the transition of language was challenging for the older journalists. Some journalists also reported to face difficulty in reporting as some of their sources refuse to communicate when they are addressed in Ukrainian. Findings also indicate that journalists are trying to improve their Ukrainian language skills on own self-help basis and an institutional support to improve their language skills remains unavailable from media organisations. Upon perceptions, Russian speaking journalists perceive the law as 'logical' and 'relevant' but some journalists in the selected sample do not consider the law to be democratic.
Protests in transnational democracies: A case Study of China's, Hong Kong's and Taiwan's media coverage of the 2014 Occupy Central Movement
Wentao Lu and Qianchan Fan
Abstract: This research aimed at finding out how do media from mainland China, Hong Kong and Taiwan construct their journalistic discourses with regards to democracy in reporting 'Occupy Wall Movement'. In this study, content analysis of the discourses that are prevalent in the coverage of Occupy Wall Street Movement (Oct 2014-Dec2014) was conducted. In the pretest of the study it was found that the newspapers from mainland China, Hong Kong and Taiwan differed in the news angle that they adopted to cover the movement. Newspaper from China adopted an official angle in its coverage and constructed a positive image of the government in relation to the protesters. Newspaper from Hong Kong adopted diverse angles and appeared to maintain balance in its reporting on the issue. Newspaper from Taiwan adopted the angel of protesters in its coverage, legitimised protests and constructed a positive image of protesters in relation to the police and government.
Regional vs National: an analysis of Indian media's perspective on Indus water dispute and its impact on human rights
Aakriti Dhawan
Abstract: This study aimed to understand how media in India project environmental disputes between India and Pakistan- Do they project such issues as a historic conflict between these two countries or are such issues portrayed as an environmental issue with a focus on aspects of economy and human rights. 35 newspaper articles (Jan 2017-Jan 2018) from 7 regional and national newspapers in india were purposively selected and qualitative content analysis was carried out. Findings indicate that Indian newspapers commonly use frames of terror and India-Pakistan conflict in their coverage of environmental issues instead of using frames of economy and human rights.