News
Student Showcase
Mundusian Guide to Living and Working in Swansea
In this guide, we cover topics like where to eat, shop and socialise in Swansea. We also provide helpful information about housing, working, living costs, visa, banks and health insurance.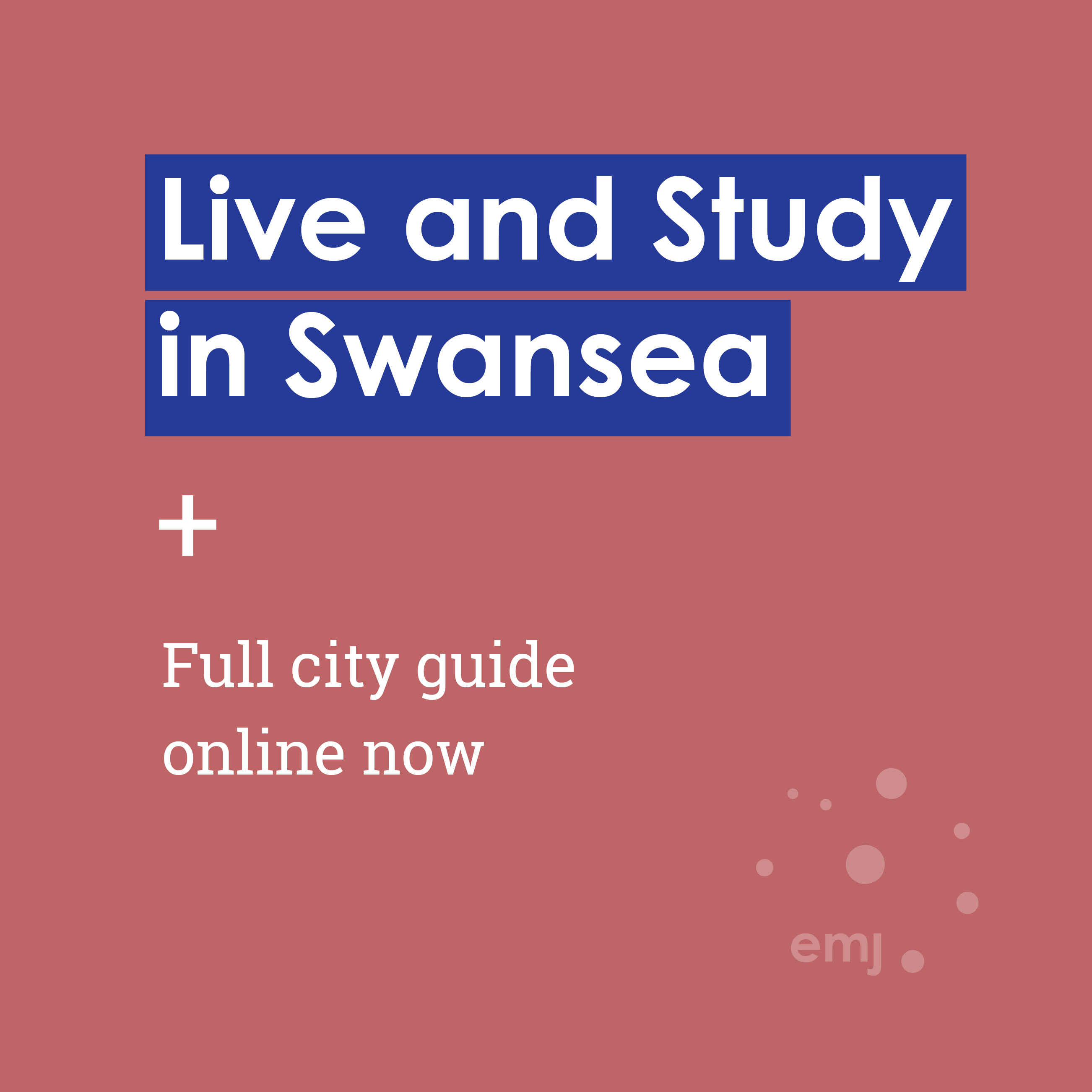 Welcome to Swansea or as they say in Welsh Croeso i Abertawe!
A big shout out to our alumni Medha, Haseena Manik, Umer Ali, Fabíola Ortiz dos Santos, David Meffe and Yerbulan Akhmetov for helping us create this guide for incoming students in Swansea. We couldn't have done it without you. Thank you!!
Located in the south of Wales where the River Tawe intersects with Swansea Bay, Swansea is the second largest Welsh city after Cardiff and the home of Mundus Journalism's specialisation in War and Conflict.
The specialisation which is offered at Swansea University is focused on training Mundusians to analyse war, conflict and development in different global context. The Swansea specialisation is a natural choice for Mundusians who want to build a career in conflict journalism, war reporting, at NGOs working on development topics, conflict and human rights issues, or for those interested in a career in research & academia.
Living in Swansea
Quiet, small and cosy, Swansea is a characteristically Welsh town that combines the charms of Wales with the experiences of living in an international city where most people speak English. With its hiking trails, cliffs, golden sand beaches, fishing villages & parks, Swansea offers a calm and serene atmosphere that is fit for students who are writing their Master thesis and can find solace in nature when studies become overwhelming.
City of Pubs, Beaches and Hiking Trails
Mundusians remember Swansea as a city of nature, pubs and Welsh pastries. It is in this city where grad students discover the joys of hanging out in quaint Welsh pubs like Rhyddings where one can find fellow Mundusians, Professors, Welsh fishermen and British poets hanging out around pool tables chatting over beer and making friends.
Other than Rhyddings pubs, Swansea Market is another favourite spot for Mundusians in Swansea. For many Mundusians, it is an after-class ritual to take a walk along the beach, marvel at the wonders of the incredible high tides that Wales is famous for, explore magnificent countryside castles and later on hit at the Swansea market for a batch of fresh Welsh pastries. But fun in Swansea does not end here.
Mundusians Recommendations:
Here are some top experiences that Mundusians say you must have when you are in Swansea:
Explore nature in Gower Peninsula and Rhossili Bay

Make a trip to the fishing village of Mumbles

Have a coffee from Brynmill Coffee House

Attend Art exhibitions and film screenings at Taliesin Arts Center .

Hike and bike in surrounding natural areas like Afan Park. (Check out some popular trails for hiking and biking in Swansea are here.)

Swansea has a strong sport and study culture. When in Swansea, don't miss the opportunity to learn a language at the University Learning Centre. Alternatively, after classes, enjoy sports like swimming at the university pool, ultimate frisbee with friends, or hockey, kickboxing and/or cycling at the university sports village.

Visit the Little Wind Street on weekends and enjoy the vibrant nightlife and continental food.
Weather
Swansea has the characteristic UK weather--cold, wet and rainy. But don't let this put you off getting outside and exploring! Our advice is to bring a raincoat, umbrella and a lot of patience while walking to campus.
Living Expenses
Mundusians define Swansea as a 'very affordable' city where you can easily maintain a comfortable living for 650-800£/ per month depending on your personal spending style.
Here is a break down of the average monthly expenses in Swansea:
Housing: £300-£600

Insurance: £0 - medical coverage in Swansea is free and covered by the UK's National Health Service (NHS)

Transportation: £0-£50/ month. Swansea is not very big and most students bike or walk. Some students get a discounted bus pass from university each term.

Groceries: £150-£200 (Vegan, organic & halal groceries cost more comparatively)

Entertainment: It depends on how much you want to spend. Student discounts and deals are available in most places.
Groceries & Supermarkets
Our alumni's top pick for grocery shops is Lidl, Aldi and Asda because of their affordable prices and regular discount offers. Ethnic supermarkets that sell African, Asian & Halal products are steep but they stock every delicacy and spice that you miss from home!
To find out more grocery options in Swansea, check out this link.
Living on a Budget
Swansea is a student-friendly city and there are many options available for those who are living on a budget.
For eating out, we recommend you to check out restaurants in and around the campus. They offer delicious food and coffee for more affordable prices. Turkish shops and Asian take-outs in the city also offer great food for the same price.
For shopping on a budget, Swansea features dozens of charity shops and second-hand stores where students can get warm clothes and other household items really cheap. We recommend you to check out car boot sales held in Singleton Hospital car park on Saturday mornings and charity shops on High Street and St Helen's Road. Other than the charity shops and second-hand stores, the shops that are located on High Street near the train station and on Oxford Street stock cheaper commodities. Other affordable shopping options are Primark, Peacocks, Parc Tawe, and Swansea Market in the city centre.
For entertainment, Swansea university supports a very active on-campus student life. There are many student activities, meetups and tours arranged by the university union and student societies that won't break your wallet.
For outside the campus activities, cinema tickets at Vue are available for 5£ for everyone which is really cheap for Swansea and you should definitely check out. To enter a regular club on weekend, it may cost up to 5£, but there are student discounts available through different university schemes. Keep your eyes open for them!
To stay fit on a budget, check out student plans at Swansea University sports centre. If those plans don't fit your budget, you can still stay fit for free by making use of the beautiful biking and hiking trails and various Swansea parks that have basketball & tennis courts but don't have entry fees.
Housing
Finding a room in Swansea is not as challenging as it is in other Mundus specialisation cities but one should not take housing lightly. Our alumni recommend you to start looking for a place to live here 2 to 3 months before you move to Swansea. Be prepared for a tough hunt for housing in late summers, as this is when most students are looking for a room and competition is most fierce. That said, it shouldn't be too hard - Mundusians have been finding housing in Swansea ok for 13 years now!
Neighborhoods Mundusians Love:
Mundusians prefer to live in neighbourhoods close to the Singleton campus of the Swansea university. Neighbourhoods of Sketty, Uplands, Swansea downtown, Sandfields & Brynmill are the most popular among Mundusians. A room in these neighbourhoods can cost you between £200 to £700 depending on many factors including your luck. Studio apartments in Swansea can cost up to £700 to £900.
You can find a cheaper room further from the city centre but we would advise you against it--Swansea is hilly and living in areas further away from the campus may not be very practical.
Some options to check out for accommodation:
Swansea University offers student residences that you can apply for online. Often, Mundusians prefer to get a room in the private market because university residences can be pricier and are situated far from Singleton campus where most Mundus classes take place.
For room search, here are some options to look at:
To find more about common housing issues in Swansea checkout the FAQ section at the university website here.
Finances, Visa and Health Insurance
The first thing that you need to take care of while planning a move to Swansea is arranging finances to apply for a UK visa. To assure the UK immigration authorities that you have enough funds available to support your stay during studies you have to show at least £9000 for living expenses + the course fee in your account at the time of applying for a visa.
Don't forget that this amount is subject to change as per the changing visa policies. It is best to contact the local immigration authorities and Mundus coordinators at Swansea University to receive the updated visa and finance information before you apply for a visa.
Banking Services
You can open your bank account with he following banks
Barclays

Santander(They have a branch inside the Singleton Campus)

Co-operative

Halifax

HSBC
Visa:
UK immigration law is subject to frequent change. We recommend you to check out this handbook prepared by the Swansea University to find out the latest visa situation (until June 2018). Additionally check out UK Visas and Immigration (UKVI) website for recent visa policies and the UK government website to locate your local British Mission or Visa Application Centre.
Health Insurance & Medical Services:
Medical in Swansea is free and covered by the UK's National Health Service (NHS). At the time of visa application, you have to pay a one-time health surcharge, the price of which keeps changing. It is best to contact the local UK Immigration authorities to confirm the exact surcharge rates at the time of your application.
After you arrive in Swansea, you can register yourself at the university health centre on campus and get treatment in the campus hospital or doctors when you need.
Working in Swansea
International Students can work up to 20 hours/week in Swansea where the minimum wage is between £7.38 and £7.83 depending on your age. Mundusians usually find it easy to get into student jobs at restaurants, takeaways, bars, cafes and retail stores. There is a bit of a competition to land these jobs as there are plenty of students in Swansea. Our advice is to start looking for jobs as soon as you arrive and be persistent with your hunt.
Where to look for work?
Inside your own network of friends and Mundusians for job recommendations

Outside restaurants and stores for open vacancy signs.

Swansea Employability Academy - they organise career fairs and provide guidance to students to land a student job.

Check out indeed.com

Look for remote based or freelance work online.

What is next after Mundus?
After graduation, you can extend your stay in Swansea for 4-6 months. To stay in this Welsh city longer than that, you need a full-time job that pays £20,800/yr and a Tier-2 visa sponsorship from your employer. Mundusians graduating from Swansea mainly prefer to venture outside of Swansea to either other parts in Europe or outside in other world continents like Asia, Africa and North America. For your career after graduating from Swansea, here are a few bits of advice from our alumni:
Get some experience of working in EU while you are in Denmark or elsewhere in the UK over summer as you may not find many internship opportunities in Swansea. Traineeships, student jobs, internships, freelance work all make your CV attractive for employers after graduation. If you are unable to get experience through such work, do volunteer work for organisations and ask them for recommendations and feedback in return.

Internships in UN, UNESCO and EU institutes have a great impact on your CV. Try to get one during summers before you move to Swansea.

Start looking for jobs while you are studying and use your connections. Tip: Mundus Journalism has a huge network of professionals who are working around the globe. Make connections within our Mundus network to find jobs after graduation.

Always include the information in your CV that you have an MA with the Mundus Journalism Program because this program is internationally recognised and will open doors for career prospects.

Stay tuned for prospective internship opportunities coming soon through Mundus Journalism!