A Mundusian guide to living, studying and working in London
In this guide, we cover topics like where to eat, shop and socialise in London. We also provide helpful information about housing, working, living costs, visa, banks and health insurance.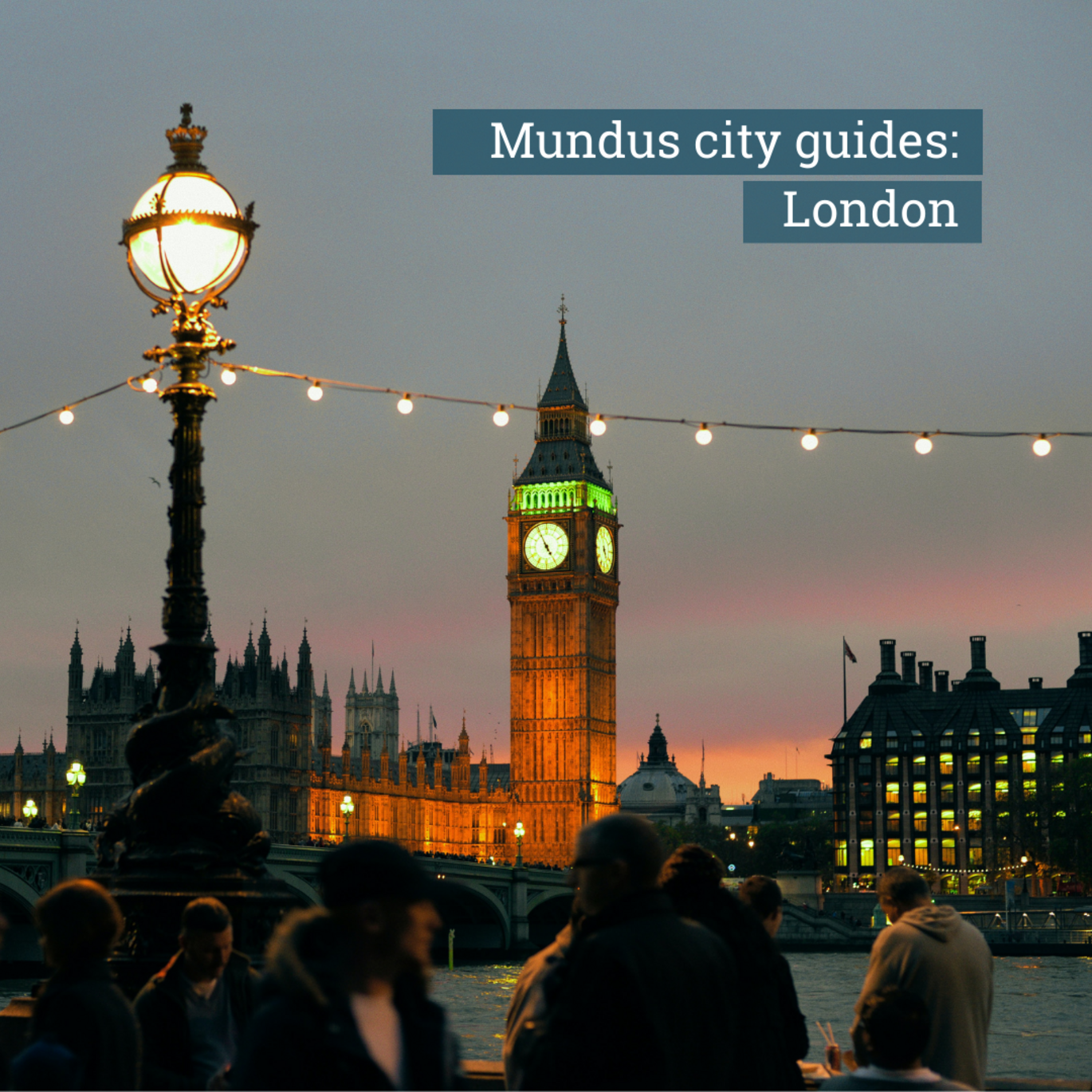 A big shout out to our alumni Amr Oghly, Alem Ao, Flavia Milhorance, Estefanía Zárate and Serla Russli for helping us create this guide for incoming students in London; we also want to thank Alex and Emilia, the creators of Not Only Central London, a new blog on hidden gems of the city out of the touristic paths. We couldn't have done it without you. Thank you!!
Welcome to London!
Located in the southeastern part of England at the bank of River Thames, London is the capital and the largest city of the United Kingdom which is one of the biggest financial districts in the world and home of Mundus Journalism's specialisation in Business and Financial Journalism.
The specialisation, which is offered at City University of London, is focused on integrated teaching of the theory and practice of financial journalism, business reporting and data journalism. This specialisation is the first pick for many Mundusians who want to build a career in business and/or financial journalism; marketing and communications for financial institutes; digital strategy; financial analysis or in academia.
Living in London
With its crowded streets bustling with business professionals dressed in their snazzy suits, iconic double-decker buses, underground metros, historic buildings, art exhibitions, theatres, museums, canals and houseboats, tourist attractions, quaint pubs, fancy restaurants and active nightlife, this ethnically diverse cosmopolitan city offers a bit of everything. The great city of London offers an atmosphere that is fit for Mundusians who wish to write their thesis amongst the buzz of big city life and in the centre of one of the world's biggest financial hubs.
As one Mundusian puts it: "Admittedly, living in London means living in a bubble—but one that is marvellous, competitive, crowded, time-poor and enriching all at once. You live through your calendar just like everybody else because time is the most valuable thing you'll discover in the city."
London Delights: the City of Pubs, Museums and Gardens
Mundusians describe London as a city of pubs, theatres, museums and gorgeous gardens. It is in this city where many Mundusians discover the joys of making friends over a beer in its characteristic taprooms and pubs, take leisurely strolls in the beautiful Kew Gardens, and become involved in London's cultural scene through art exhibitions, live shows, operas, ballet performances, concerts and free museums.
Victoria and Albert, Portrait Gallery and the Saatchi Galleries are some for the many museums that our alumni frequent to for a visual treat alongside taking a walk down Shoreditch and Mayfair to find interesting artists viewings in smaller galleries.
When it comes to theatres, Old Vic, Almeida, Farringdon, Sadler Well's and Red Lion pubs are some of the favourites of many Mundusians because of their great production values and remarkable performances.
In addition to art and culture, London offers delightful sightseeing opportunities that one can enjoy better on foot. Mundusians recommend you take a walk along the river Thames and across various historic neighbourhoods and gorgeous London boroughs, not just in Central London.
Missing the Aarhus bicycle-life? Don't get overwhelmed by all those Tube lines! Even if it can be hard to imagine, London is a very bike-friendly city heading more and more towards sustainable transportation and infrastructures. For instance, Emilia and Alex always go out exploring by bike and for this guide they shared with us some of their favourite spots out of the touristic and beaten paths. Remember your raincoat and start your journey!
Top 5 out-of-the-beaten-path places to visit:
London's Magnificent Seven Cemeteries
Highgate Cemetery, Nunhead Cemetery, Tower Hamlets Cemetery, Kensal Green Cemetery, West Norwood Cemetery, Brompton Cemetery and Abney Park Cemetery are the so called 'Magnificent Seven'; a group a Victorian cemeteries scattered around the city. Built from the 1830s onwards to tackle London's lack of burial grounds, they are today rather spectacular, although a slightly creepy, places to visit. Highgate is probably the most picturesque one (several of its catacombs are Grade II-listed!) where you will find, among others, the gravestone of Karl Marx.
Located at the top of the Barbican theatre, the Barbican Conservatory is the second biggest conservatory in London, after Kew Gardens' Princess of Wales Conservatory. The space is packed with tropical plants, a glass-bound rainforest surrounded by the grey concrete of the famed, brutalist Barbican Centre.
Coal Drops Yard is located just a couple of minutes away Kings Cross in central London. It is today a shopping and dining destination home to several restaurants and cafes, independent shops and famous brands. What will get your attention of this open-air shopping destination is the setting: it is located in converted 19th-century coal warehouses with brick arches and cast-iron structures that give the place an interesting industrial look. On top of this, its proximity with the canal, makes the place a perfect spot to grab a coffee by the waterside.
If you feel like you need to get away from the hustle and bustle of the city for a couple of hours, the Hackney Marshes are the place for you. An open space area in London's Lower Lea Valley, on the western bank of the River Lea, the Hackney Marshes look rural enough to make you feel like you are in the countryside, while you actually still well within the city. With its extensive green area, canals and river, it is one of the largest areas of common land in Greater London, with 336.1 acres of protected commons.
Mudchute Park and Farm is a 32-acre site of countryside located on the Isle of Dogs. The park and farm are open to the public and offer an unusual view on the Canary Warf skyline. The farm itself is one of the largest city farms in Europe, where sheep, pigs, horses, lamas, and chickens live happily on this green oasis.
The Boundary Estate is a perfect place to escape the hustle and bustle of Shoreditch, Whitechapel and Bethnal Green. Made up of a set of red brick houses that surround a beautiful park called Arnold Circus. You might want to enjoy a nice walk or find the perfect spot for a quick lunch around Boundary Estate, to enjoy a peaceful atmosphere while being immersed in the vibrant surroundings of the nearby area.
Weather
London has the characteristic UK weather—cold, wet and rainy. But don't let this put you off getting outside and exploring! Our advice is to bring a raincoat, umbrella and a lot of patience while walking to campus.
Living Expenses
Mundusians define London as a relatively expensive city where you can expect to pay between 1050-1555£/month to maintain a comfortable living.
Here is a break down of the average monthly expenses in London:
Housing: £550-£1150 depending on the neighbourhood
Insurance: £0 medical coverage in London is free and covered by the UK's National Health Service (NHS). However, internationals pay the healthcare as part of their visa application (470£ for the first year)
Transportation: £80-£100/ month depending on the zone you live.
Groceries: £350-£500 (down to approx. £200 if you live on a budget)
Entertainment: Depends on your personal style. Student discounts and deals are available in some places.
Groceries & Supermarkets
Our alumni's top pick for grocery shops is Lidl, Aldi, Asda and Tesco because of their affordable prices and discount offers. Ethnic supermarkets that sell African, Asian & Halal products are steep but they stock every delicacy and spice that you miss from home!
Living on a Budget
London is a student-friendly city and there are many options available for those who are living on a budget.
For eating out, we recommend you to check out restaurants in and around the campus. They offer delicious food, sandwiches and coffee for more affordable prices. In addition to that, London offers many affordable ethnic food options that will satisfy your taste buds without breaking your wallet.
For shopping on a budget, London features dozens of charity shops and second-hand stores where students can get warm clothes, party dresses, books and household items really cheap. We recommend you to take a charity-shop crawl at Balham, Streatham, High Road Highgate, Pimlico and Highgate for a satisfying shopping experience on a budget.
For entertainment, City University of London supports a very active on-campus student life. There are many student activities, meetups and sports competitions arranged by the university students' union and student societies that won't break your wallet.
For outside the campus activities, entry in most museums is free for students. There are student discounts on some cinema and theatres as well. Keep your eyes open for them!
To enjoy cheap food, bars and discounted shopping all at one place, Camden Market is a must to go to!
To stay fit on a budget, check out student plans at City University of London's sports centre. If those plans don't fit your budget, you can still stay fit on a budget by making use of the beautiful London parks and jogging trails that are free for public use.
To get discounts on public transportation, get an Oyster Card and travel inside London on a 30% reduced fare. For travel to the adjacent towns and further away locations like Liverpool, the Lakes District and Edinburgh, you can get discounted tickets if you get a student railway cards.
Housing
Finding a room with affordable rent in London is challenging. Our alumni recommend you to start looking for a place to live here 2 to 3 months before you move to London. Be prepared for a tough hunt for housing in late summers, as this is when most students are looking for a room and competition is most fierce. That said, it shouldn't be too hard - Mundusians have been finding housing in London ok for 16 years now!
A room in a shared apartment in London can cost between 450-900£/month and a studio apartment can cost between 900-1150£/month depending on how close to Central London you live. The further you live away from the central locations in London, the higher your chances are of getting cheaper accommodation. The City University of London has prepared a very useful guide about accommodation prices in different neighbourhoods in London that can come in handy during your house hunt. Checkout the guide here.
City University of London offers different options for student residences that you can apply for online. Many Mundusians also team up to rent a private house together. In the private rental market, here are some options to look at:
The good ol' Facebook and its groups where you will find ads for rooms/apartments
Plus, if you really want to dive into the London vibe, Alex and Emilia from Not Only Central London prepared their top-5 cool and urban neighbourhoods where you can start your new life as a Londoner!
Cool neighbourhoods for students:
- Dalston – 20-25 min cycle to Bloomsbury (where most of the University of London colleges are). Close to a number of great parks in Hackney, such as London Fields, Hackney Downs. Cool and trendy area favoured by young hip people, but still maintains an original, ethnic and diverse vibe. Great ethnic restaurants, hip cafes and an underground music scene.
- Holloway – very popular area with University of London students. Close to Bloomsbury area (20min tube journey) and offering cheaper rents. It's an appealing alternative to nearby upmarket Islington, and offers a range of different cafes and restaurants, and plenty of shops. Nearby is the Emirates Stadium, home to Arsenal F.C. which is really worth a visit (if you can get a ticket!).
- Hackney Wick – Located in East London, it has long been a home to a number of professional creatives, artists and musicians (it's a particularly great place to go and see some great murals and urban graffiti). It has grown and changed a lot over the past decades and is a great place to find craft breweries, good restaurants and art galleries. Lots of these places a located on the canal, which is always a great place for a stroll. 40mins to Bloomsbury.
- Peckham – not as conveniently located as other areas (45 mins to Bloomsbury), but a favourite spot in South East London. With its multicultural roots, you will never get bored. This place is vibrant, alternative and hosts a bourgeoning creative scene. Cool places to visit are Peckham Library, designed to look like an inverted capital letter L) and Peckham Levels (a converted multi-story car park which now hosts a number of creative workshops, businesses, bars, restaurants and hosts awesome live music events).
- Brixton – definitely one of London's trendiest areas, Brixton will steal your heart. Urban and gritty, but also classy, this neighbourhood has everything you are looking for - from fancy wine bars to local street food. Best places to hang out are Pop Brixton (essentially a shipping container village with excellent food and drink stalls, live music and community workspaces), The Brixton Village and Market Row, and the beautiful Brockwell Park if you fancy a walk in the park.
Visa
The first thing that you need to take care of while planning a move to London is arranging finances to apply for a UK visa. UK immigration law is subject to frequent change, now even more because of Brexit. We recommend ALL students to check out UK Visas and Immigration (UKVI) website for recent visa policies and to locate your local British Mission or Visa Application Centre at the time of making your visa application.
It is best to contact also Mundus Journalism coordinators at City University of London to receive the updated visa and finance information before you apply for a visa.
Banking Services
You can open your bank account with the following banks among others:
Barclays
Santander
Lloyds
Halifax
HSBC
Health Insurance
Medical services in London are free and covered by the UK's National Health Service (NHS). At the time of visa application, you have to pay a one-time health surcharge, the price of which keeps changing. It is best to contact the local UK Immigration authorities to confirm the exact surcharge rates at the time of your application.
After you arrive in London, you can register yourself at the university health centre on campus and get treatment in the campus hospital or doctors when you need.
Working in London
International Students can work up to 20 hours/week in London where the minimum wage starts at £7.38. Mundusians usually find it easy to get into jobs as a freelance journalist, internships at media houses and news agencies, startups, banks & in the financial sector. Employment as a babysitter and work at restaurants, cafes, bars and retail stores is also possible.
There is a bit of a competition to land these jobs as there are plenty of students in London. Our advice is to start looking for work as soon as you arrive and be persistent with your hunt.
Where to look for work?
Inside your own network of friends and Mundusians for job recommendations
Checkout City University's job listing
Check out job portals like:
Jobs.ac.uk
Journalism.co.uk
Indeed.com
LinkedIn
Look for remote based or freelance work online.
Hire services of recruiting agencies or placement agencies
Be proactive and make a pitch to websites or media houses you want to freelance with.
What is next after Mundus Journalism
After graduation, you can extend your stay in London for 1- 4 months depending on your country of origin. To stay in UK longer than that, you need a full-time job that pays £20,800/yr and a Tier-2 visa sponsorship from your employer. For your career after graduating from London, here are a few bits of advice from our alumni:
An internship or a student job in London will increase your likelihood of getting a permanent job offer at the same company after graduation.
If possible, get some experience of working in the EU while you are in Denmark or elsewhere in the UK over summer. Traineeships, student jobs, internships, freelance work all make your CV attractive for employers after graduation. If you are unable to get experience through such work, try volunteer work for organisations and ask them for recommendations and feedback in return.
Internships in UN, UNESCO and EU institutes have a great impact on your CV.
Start looking for jobs while you are studying and use your connections. Tip: Mundus Journalism has a huge network of professionals who are working around the globe. Make connections within our Mundus network to find jobs after graduation.