A Mundusian Guide to Living and Working in Prague
In this guide, we cover topics like where to eat, shop and socialise in Prague. We also provide helpful information about working, living costs, visa and health insurance.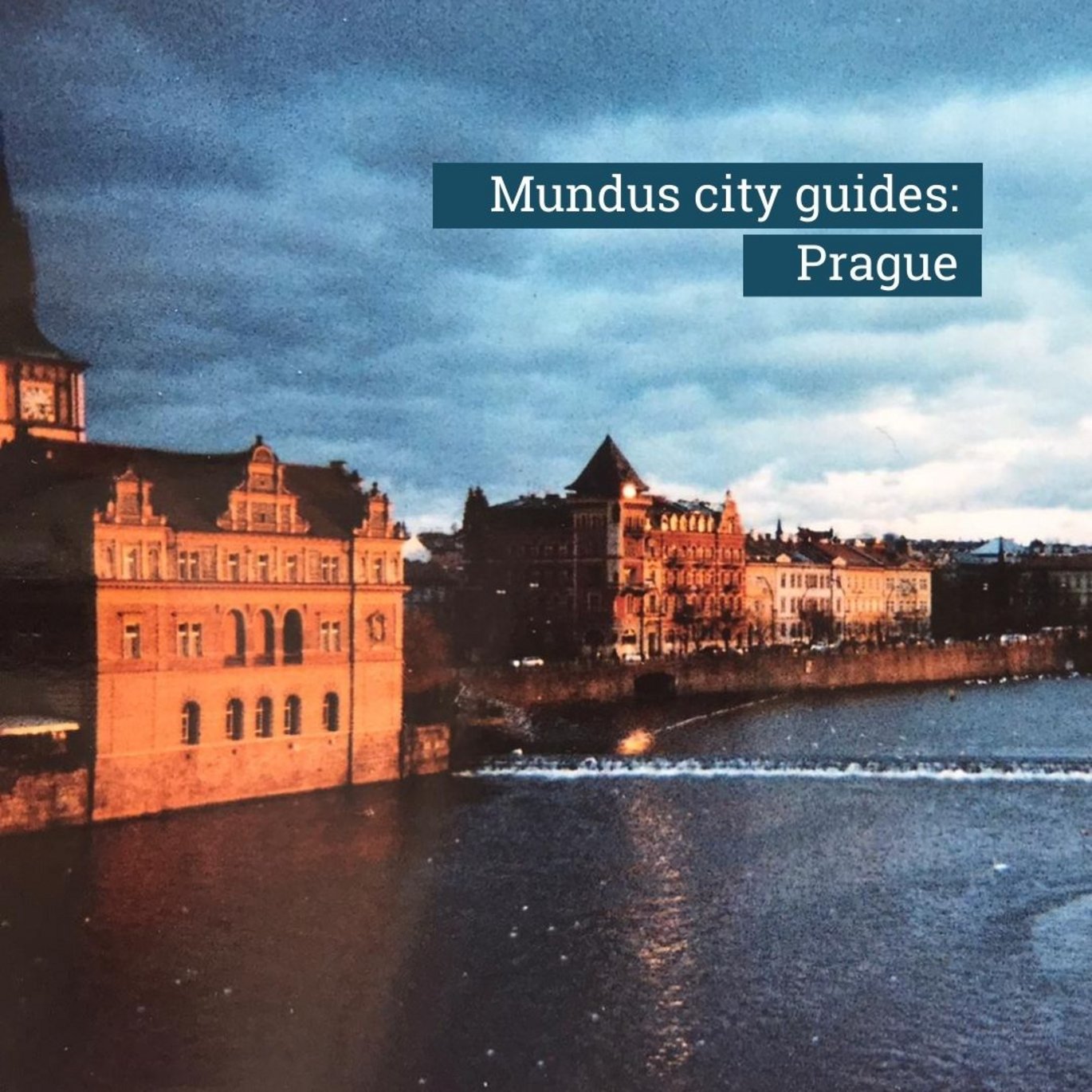 Prague, the City of a Hundred Spires, is a capital of the Czech Republic. It is vibrant center of Central Europe that has undergone a transformation from totalitarianism to democracy.
The specialisation "Totalitarianism & Transition" reflects this transition looking at the challenges the young democracy and its media landscape face. It combines a solid theoretical knowledge post-totalitarian countries and practical experience of journalistic work.
We hope that coming to study at Charles University will be an exciting experience, with opportunities to broaden your academic, social and cultural horizons.
This article contains information about Charles University, Faculty of Social Sciences, life in Prague and other services. We'd like to take this opportunity to thank the staff at the Faculty of Social Sciences at Charles University along with Mundus alumna – Dominika Píhová who also gave us her tips, as she graduated from Charles University before starting on the Mundus programme.
Finally we have our first cohort of students in Prague, so we can't wait to show you the best spots thorugh their eyes!
Visa
Students who are EU or EEA nationals (i.e. citizens of the 27 EU member states, and Norway, Iceland, Liechtenstein, Switzerland) DO NOT require a visa to study here. It is enough to arrive with a valid passport (or national ID card). If they intend to stay in the Czech Republic for longer than 3 months, they can request a certificate of temporary residence or a permanent residence permit to be issued.
Students from outside the EU or EFTA (so-called "third-country nationals") DO require a visa or a residence permit to study in the Czech Republic. Although some minor exemptions apply (in particular for students from countries with a short-term visa waiver, whose total stay will last less than 90 days), in most cases a visa (or residence permit) will be necessary. Visas and residence permits are issued at Czech consulates in your country of origin (and/ or country of residence) and must be obtained before coming to Prague. It is not possible to apply for a visa after your arrival, or even to pick up a visa you have previously applied for. Processing times can be up to 90 days. We therefore strongly recommend all applicants to contact the Czech consulate in good time.
More information on visa procedure can be found on the Charles University web page.
Money, Banking Services and Living Expenses
The Czech Republic is a member of the European Union, but is outside the Eurozone, which means that it does not use the euro as its currency. The currency is the Czech crown (Koruna ?eská – Kc?/CZK). The following denominations are in circulation:
Notes: 100; 200; 500; 1,000; 2000 and 5,000 Kc?
Coins: 1, 2, 5, 10, 20 and 50 Kc?.
Be careful when using exchange offices. Many of them target tourists, particularly in Prague, and you may end up paying a high commission or getting a bad rate without even knowing it. Be aware of changing money on the street. The purpose of this practice is not to exchange money, but to steal it from you. Do not carry large amounts of cash with you. Carry a credit card and take money out of an ATM as you go. You can also use your card to make payments. Major credit cards are accepted in most locations.
There are branches of all the main Czech as well as foreign banks, and other smaller branches where you can open an account. Bank opening hours are generally 8 a.m. to 5 p.m. Monday to Friday and some banks are open on Saturday mornings. Nearly all banks have 24-hour ATM and a foreign exchange desk where you can exchange a wide range of foreign currencies and travelers' cheques.
The cost of living in Prague is inexpensive when compared to most western European cities. Depending on your preferences (accommodation choices, lifestyle, and spending habits) you should expect to spend 800-1000€/per month to maintain a comfortable living (including meals, accommodation, public transport and culture).
Groceries & Supermarkets
The Czech Republic is great in a sense that compared to other destinations on the Mundus Journalism programme, it's very affordable. There are lots of different supermarkets, from Lidl, Tesco, Albert, Billa or Kaufland which are all affordable and offer good deals for groceries. There is also a lot of small grocery shops on every other corner in Prague, where you can also buy groceries (albeit for a bit more money), but this means can pick things up closer to your home or during later hours.
Dominika also recommends going to the farmers markets which are open from spring to autumn as you can find the best fruits and vegetables for very reasonable prices, you can find out more about these and Prague's flea markets too, here.
Another huge advantage in Prague is that you can afford to eat out and should definitely enjoy doing just that. There are so many restaurants, cafés, bistros etc. and you can always try out new things. The best thing is that it's not going to wipe out your wallet. Just search Yelp or Trip Advisor or some blogs to find the best places around you.
Around the faculty there are many great cafés. You can spend hundreds of hours studying and also just chilling at the Standard café around the corner from the Uni, in Karolina Sv?tlá street. Dominika recommends going and studying or enjoying beer or cake there. It is a great and friendly place.
A little further from there are the "Atmosphere" café or "Campus" where you can go to have some beer.
Health Insurance
Students arriving from EU member states should ensure that they request a European health insurance card (EHIC) from their local health authorities before departure from their home countries. Nationals of E.U. countries who are staying temporarily in the Czech Republic are entitled to receive URGENT necessary medical treatment free of charge. To obtain treatment under the provisions of the European regulation it is important to contact medical institution (doctor, dentist, hospital), which is covered by the contract with the public health insurance system (most of them do - details can be obtained from the health insurance funds).
Non-EU students should ensure that they have private medical insurance, or they must expect to pay cash for all medical care. We strongly urge all non- EU international students to consult with their medical insurance company prior to travelling abroad to confirm whether their policy applies to the Czech Republic and whether it will cover emergency expenses such as a medical evacuation.
General information on Health Insurance and Health Services is available at Charles University web page.
Housing
Faculty Housing
Faculty of Social Sciences provides accommodation in the Charles University Halls of Residence (dormitories). Students are housed in double-occupancy rooms. Single rooms are generally not available. (Exceptions can be made for students with health problems and students with special needs.) Rooms are allocated to students based on their host faculty, thus the students of one faculty are usually housed together).
The accommodation will be provided for the period corresponding to your study stay at Charles University. In the winter semester the rooms are available starting approximately one week before the beginning of the semester/study period, orientation week or dates included. In the summer semester the rooms are available 1-3 days in advance as the semesters overlap and winter semester students are still accommodated in the dormitories.
Private housing
The prices of private accommodation vary considerably according to size, occupancy, quality and location. Generally, it is not difficult to find private accommodation in Prague. For a private room in a shared flat, you'd probably be looking at spending between CZK 10,000 - 15,000. For a private 2-bedroom flat (two rooms and kitchen) situated in Prague you can pay about CZK 15,000 – 20,000 per person. It can be half as expensive in the suburbs. Please, keep in mind that the rental prices in the historical center will be more expensive and can be even double as much as the amount states above. Due to the housing market crisis, students are advised to begin searching for private housing in the second semester of the first year.
Dominika recommends looking for apartments in the Letná and Holešovice (Prague 7), Dejvice (Prague 6), Vinohrady (Prague 2) and Žižkov (Prague 3 ) districts. These are a little more central, but have enough parks and green spaces around.
That being said, it is not easy to find short-term rentals. Not all landlords are willing to sign tenancy agreements for less than 12 months, but many agencies are providing living units for a short stay (renting a room - prona?jem pokoje / renting an apartment - prona?jem bytu). We recommend using Facebook groups or Czech websites such as bezrealitky.cz or sreality.cz to find places. However, when choosing accommodation, we would always advise that you have everything in writing and in a contract before you pay anything. Also make sure to note the fees you might be asked for if you need to pay a deposit etc.
Academic Calendar
The academic year is based on two semesters – winter and summer semesters. Both semesters are followed by examination periods. The particular dates for the current academic year are available on this website: Academic Calendar.
Evaluation and Grading System
Study results are measured by examinations, supervised written work, project work or colloquia. Examinations may be written, oral or combined. The system of classification recognized A-F grading systemhttps://fsv.cuni.cz/en/academics/exchange-and-visiting-students/change-grading-system-fsv-uk, often referred to as ECTS grading.
A – Excellent. The student has shown excellent performance, originality and displayed an exceptional grasp of the subject.
B – Very Good. The student understands the subject well and has shown some originality of thought. Above the average performance, but with some errors.
C – Good. Generally sound work with a number of notable errors.
D – Satisfactory. The student has shown some understanding of the subject matter but has not succeeded in translating this understanding into consistently original work. Overall good performance with a number of significant errors.
E – Sufficient. Acceptable performance with significant drawbacks. Performance meets the minimum requirements.
F – Fail. The student has not succeeded in mastering the subject matter of the course.
Z – Pass/Credit. Where a course is completed by a study requirement other than examination, it is not graded, but is recorded as "Zápo?et (Z)." This is in effect a Pass in a two-tier Pass/Fail grading system.
Study in the Czech Republic Scholarships
For students struggling with finances, there is financial support available in the form of scholarships and loans. These options are worth checking out for Mundusians who need support during their second year in Amsterdam. Check out this link on the website here.
Working in Prague
Many students work and study at the same time. Having a part-time job or a summer job is very common in the Czech Republic. There are working options for international students as well, just be prepared that the job offers may be limited due to the fact that most jobs require fluency in Czech. However, there are many international companies operating in big cities, where your ability to speak or understand various languages can be a plus.
A citizen of the EU/EEA country and Switzerland or his or her family member does not need an employment permit, Employee Card or Blue Card to be employed in the territory of the Czech Republic. These workers have the same legal status as citizens of the Czech Republic, as the country is a member of the European Union.
If you are a third country citizen, you are allowed to work while studying, but please bear in mind that you are in the Czech Republic with a study visa for study purposes, therefore paid work cannot be your primary occupation during your stay. Your work must not affect your studies. T
Third country students who are studying in a full-time (daily) form of studies in a degree programme accredited by the Ministry of Education, Youth and Sports in the Czech Republic do not need an employment permit. The employer is only obliged to notify the relevant regional office of the Public Employment Service of the start of your work. Third country students who came for a temporary study stay in the Czech Republic, are allowed to work without an employment permit only if they are up to the age of 26 and their performance of work does not exceed 7 consecutive calendar days or a total of 30 days within a calendar year.
What to do while you're here
Traveling around Czech Republic is cheap too, so Dominika recommends taking advantage of that! Airbnbs around the country are affordable. So, if you like history, you can travel to castles and explore this side of the country, if you like nature there are mountains and hiking trails you can use, in case you like wine or beer, Czech Republic is the perfect place. Moravia is well known for its wine and Czech Republic has an almost ridiculous number of breweries that are usually accompanied with some nice restaurants - so go for it.
As for students discounts, once you have ISIC (you can ask for it in Denmark, just be aware that in Czech, people want to see the physical ISIC, the e-ISIC won't do the magic) you can get many discounts in restaurants, cinemas etc. I would recommend checking out the website as the offers appear there.
In general, I you can use the offers for art museums - national gallery as well as DOX (definitely check it out) offer student tickets and many more things.
Useful resources:
Faculty of Social Sciences, Student Life information
Official webpage of Charles University, information for incoming international students
Studyin.cz is an official resource for information about higher education in the Czech National Agency for International Education. It provides essential information about the higher education system, study opportunities and student's life in the Czech Republic.