A Mundusian Guide to living, studying and working in Amsterdam
In this guide, we cover topics like where to eat, shop and socialise in Amsterdam. We also provide helpful information about housing, working, living costs, visa, banks and health insurance.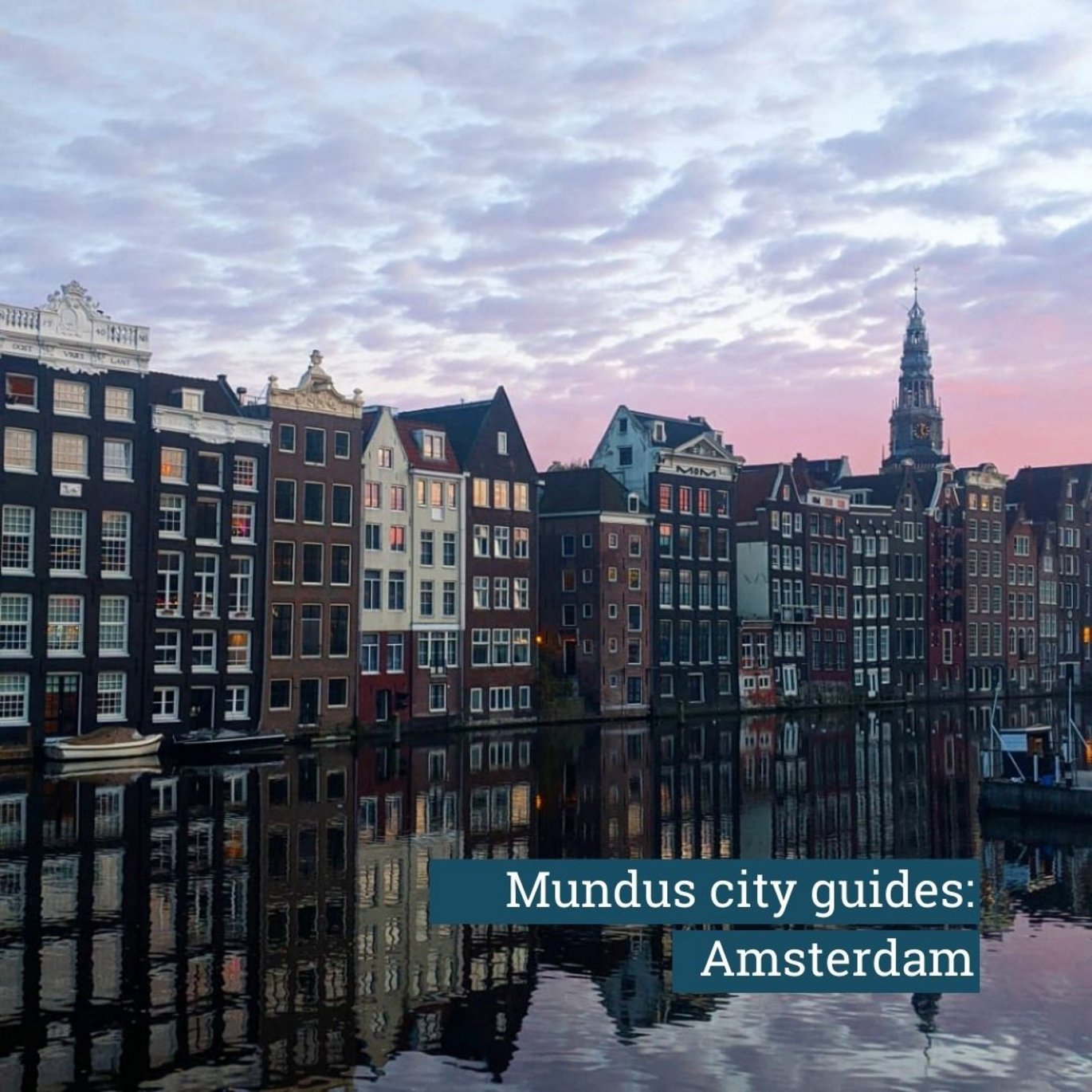 A big shout out to our alumni Adriana Diaz, Belen Estrella, Samia Fitouri, Demba Kandeh, Jialu Zhang and Konrad Staehelin for helping us create this guide for incoming students in Amsterdam. We couldn't have done it without you. Thank you!!
Welcome to Amsterdam! The city of bikes, canals and a vibrant, youthful nightlife!
Amsterdam is the cultural capital of the Netherlands and one of the top financial centres in Europe. It's also just down the road from European political centres like Den Hague and Brussels and is home to the Mundus Journalism track in Plitics and Communication.
The specialisation, which is offered at University of Amsterdam (UvA), approaches politics through the lens of politics and focuses on the relationship of politics, media and citizens in the context of globalisation. This specialisation is the first pick for many Mundusians who want to build a career in political communications, European Union agencies, government agencies in their own region, Political Science research, academia and/or political journalism.
Living as an International in Amsterdam
If Amsterdam was a person, we would describe it as young, vibrant, liberal and international. With its gorgeous canals, biking culture, museums, narrow lanes and canalside tall, Dutch houses; its fancy restaurants and cosy coffee shops, this Dutch city lights up all night and offers activities and culinary delights for everyone's taste. Add to all this the fact that Amsterdam is one of the most diverse, liberal and cultural accepting European cities and you have a city that creates the perfect environment for international students to live in. As one Mundusian says: Living in this city is like having the taste of a global cocktail.
City of Bikes, Canals, Museums & Culture
Mundusians remember Amsterdam as a city of bikes, canals, gigs museums and culture. It is in this city where many Mundusians discovered the joys of biking around beautiful canals and finding their way along streets of tourists who throng the city to enjoy its hospitality and boating tours.
Apart from enjoying the buzzing touristic life by the canals, getting involved in the active cultural scene of Amsterdam is another opportunity for Mundusians living in this city. There are plenty of events, art exhibitions, theatres, movie screenings and film festivals taking place in Amsterdam keeping students busy every weekend. Two neighbourhoods that Mundusians love for cultural activity are Jordaan and Museum Quarter - check this link for all museums and current exhibitions taking place in the city!
Amsterdam also has some gorgeous and historic Dutch towns nearby that our alumni have said they love to explore on a day trip, like Rotterdam, Utrecht and many more.
Another Mundusians' favorite on sunny mornings is taking a ferry to Amsterdam Noord, getting some herring from to-go carts, lying down by the river with friends and soakin up the sun and the bustling Dutch life by the river. There, a must-go visit is NSDM, a vibrant cultural and social space created in a former industrial shipyard. Walking around graffiti-embellished hangars and shipping containers, you will find sustainable cafés, artistic workshops, flea markets and many more cultural events!
Living expenses
Mundusians describe Amsterdam as an expensive city where you can expect to spend 850-1150€/per month to maintain a comfortable living.
Here is a break down of the average monthly expenses in Amsterdam:
Housing: 400-700€/month
Insurance: 70-100€/month
Transportation: 0-50€/ month. Biking around in Amsterdam will reduce your transportation costs to 0€.
Groceries:150-250€/month (Vegan, organic & halal groceries cost more comparatively)
Entertainment: It depends on how much you want to spend! Student discounts and deals are available in most places.
Groceries & Supermarkets
Our alumni's top pick for grocery shops is Lidl, Aldi, Dirk and Jumbo because of their affordable prices and regular discount offers. Next in the line is Albert Heijn which is a bit expensive but a convenient option for day-to-day groceries. Ethnic supermarkets that sell African, Asian & Halal products are steep but they stock every delicacy and spice that you miss from home!
Amsterdam has a variety of speciality stores and farmer markets that are cheap and make grocery shopping a fun activity. To find out more, check out these grocery and street market guides here.
Living on a Budget
Despite being expensive, Amsterdam offers many options that make entertainment, dining out and shopping affordable for students who are living on a budget.
For starts, there are great discounts available on stores, supermarkets, cinemas, restaurants, travel, bicycles, gadgets and in several other places in Amsterdam for those who hold the International Student ID Card (ISIC). The yearly fee for ISIC is 12€ and the card is accepted worldwide. Like ISIC, there are other discount cards available that make entertainment and dining out relatively cheaper. Check out some options here
For entertainment, the students association CREA is bursting with activities like music, theatre, debates, film and documentary that suit most students budget. CREA also offer professional courses like acting and photography that are worth checking out!
For cinema, Pathé, The Movies, Rialto, Kriterion and Cinecenter offer special discounts for students. Additionally, there are student discounts on several museums in the city.
Here are some more tips from Amsterdam Alumni to save euros and have fun:
Take advantage of the cold winters- Invite over other Mundusians at home. Cook together and have a drink. Make it cosy and nice like hygge in Denmark.
Get a bike. It will save you several euros.
Become a membership of Subbacultcha. By paying 8 euros a month, you get to most movie screenings and cultural events for free.
Check out Dutch people's kitchen like De Peper & Joe's Garage. They offer dinner as cheap as 3.50 euros.
Albert Heijn has discount cards through which you can get discounts on groceries.
The IJ-Hallen is the biggest and most unique flea market in Europe - you will have a great chance of finding what you are looking for. Unique products like home furnishings and clothing are also offered at very low prices at the market, so it's perfect if you're on a budget. The IJ-Hallen is recommended to anyone who loves flea markets and great bargains - books, second hand clothes, board games, furniture... everything you need you can find at IJ-Hallen while having a vibrant cultural experience! You get there via boat and it's a super fun activity either you go with friends or alone.
Housing
House hunting in Amsterdam needs a bit of time, planning and patience. Our alumni recommend you to start looking for a place to live here three to four months before you move to Amsterdam. Be prepared for a tough hunt for housing if you start looking over the peak of summer, as this is when most students are looking for a room and competition is the most fierce. That said, it shouldn't be too hard - Mundusians have been finding housing in Amsterdam ok for 15 years now!
Room Rent and Dutch Government Rent Support
A room in Amsterdam can cost you between 350€ to 800€/month. There is a generous rent support available from the Dutch government for International Students that pays part of their rent if they are living independently (living in a studio). Here are a few requirements that make students eligible for this government rent support.
Where to look for Room?
There are different options to find a room:
University Residences: Amsterdam University offers student residences that you can apply for online.
Student Housing Corporations: Corporation like De Key, DUWO and Ymere assist students in finding accomodation against a service fee. The fee could be between 500-700€.
Private Rent Market: To find a room in the private rental market, check out these options:
· Kamernet
· Funda
Visa
The first thing that you need to take care of while planning a move to Amsterdam is arranging finances to apply for a visa. To assure the Netherland immigration authorities that you have enough funds available to support your stay during studies you have to show at least 10 000€ for living expenses for one year.
Don't forget that this amount is subject to change as per the changing visa policies. It is best to contact the local immigration authorities and Mundus coordinators at Amsterdam University to receive the updated visa and finance information before you apply for a visa.
Banking Services
You can open your bank account with the following banks:
Health Insurance
It is mandatory for Non-EU students to purchase a health insurance plan to carry out their studies in the Netherlands. For EU students and student who are working while studying, there are different options and requirements for health and liability insurance. Our recommendation is to check out the insurance specifications on the UvA website here and to contact Amsterdam coordinators for updated information.
For non-EU Mundusians, AoN student insurance is a usual option to go for. A plan from AoN can cost students between 70€-100€/month.
University of Amsterdam Scholarship
For students struggling with finances, Amsterdam university offers financial support in the form of scholarships and loans. These options are worth checking out for Mundusians who need support during their second year in Amsterdam. Check out this link on the website here.
Working in Amsterdam
Non-EU students need to acquire a work permit (which is free of charge) in order to work while studying. This allows international students to work 16 hours per week while in the Netherlands. There is more info on the UvA website about work visa rules for students. Generally, for student jobs you can earn between 8-10€/hour depending on the nature of the job.
Mundusians usually find it easy to get into student jobs as a research assistant at the university, student assistant at NGOs and media houses, help at restaurants, takeaways, bars, cafes and retail stores. Internships are usually paid in Amsterdam but non-EU student are not eligible to do an internship on a student visa and need to apply for a visa in a different category if they want to do an internship.
Where to look for jobs
Inside your own network of friends and Mundusians for job recommendations
Reach out to the professors at UoA. They usually hire student assistance on projects
Check out jobs at indeed.com, projob & LinkedIn
Search on Eurobrussels and Euractiv job sites with "Amsterdam" as a filter.
Look for remote based or freelance work online.
What is next after Mundus?
After graduation, you can apply for a 12-month visa in the Netherlands. You can search for a full-time job during this period. To get a full-time job in the Netherlands, knowing Dutch skills is highly desirable. Jobs in production houses and broadcast are also more available for internationals in the Netherlands as compared to jobs in other media sector.
Mundusians graduating from Amsterdam mainly prefer to venture outside of Netherlands to either other parts in Europe especially in EU institutions like European Parliament in Brussels and political parties or NGOs and government agencies in other world continents like Asia, Africa and North America.
For your career after graduating from Amsterdam, here are a few bits of advice from our alumni:
Get some experience of working in EU while you are in Denmark. Traineeships, student jobs, internships, freelance work all make your CV attractive for employers after graduation.
If you are unable to get experience through work, do volunteer work for organisations and ask them for recommendations and feedback in return.
Internships in UN, UNESCO and EU institutes have a great impact on your CV. Try to get one during summers before you move to Amsterdam.
Start looking for jobs while you are studying and use your connections. Tip: Mundus Journalism has a huge network of professionals who are working around the globe. Make connections within our Mundus network to find jobs after graduation.
Always include the information in your CV that you have an MA with the Mundus Journalism Programme because this program is internationally recognised and will open doors for career prospects.