Reunion Reflections
On October 15th and 16th, Mundusians from around the world gathered in Amsterdam to celebrate the programme's 10th Anniversary. It was an incredibly special few days for students, alumni and faculty members.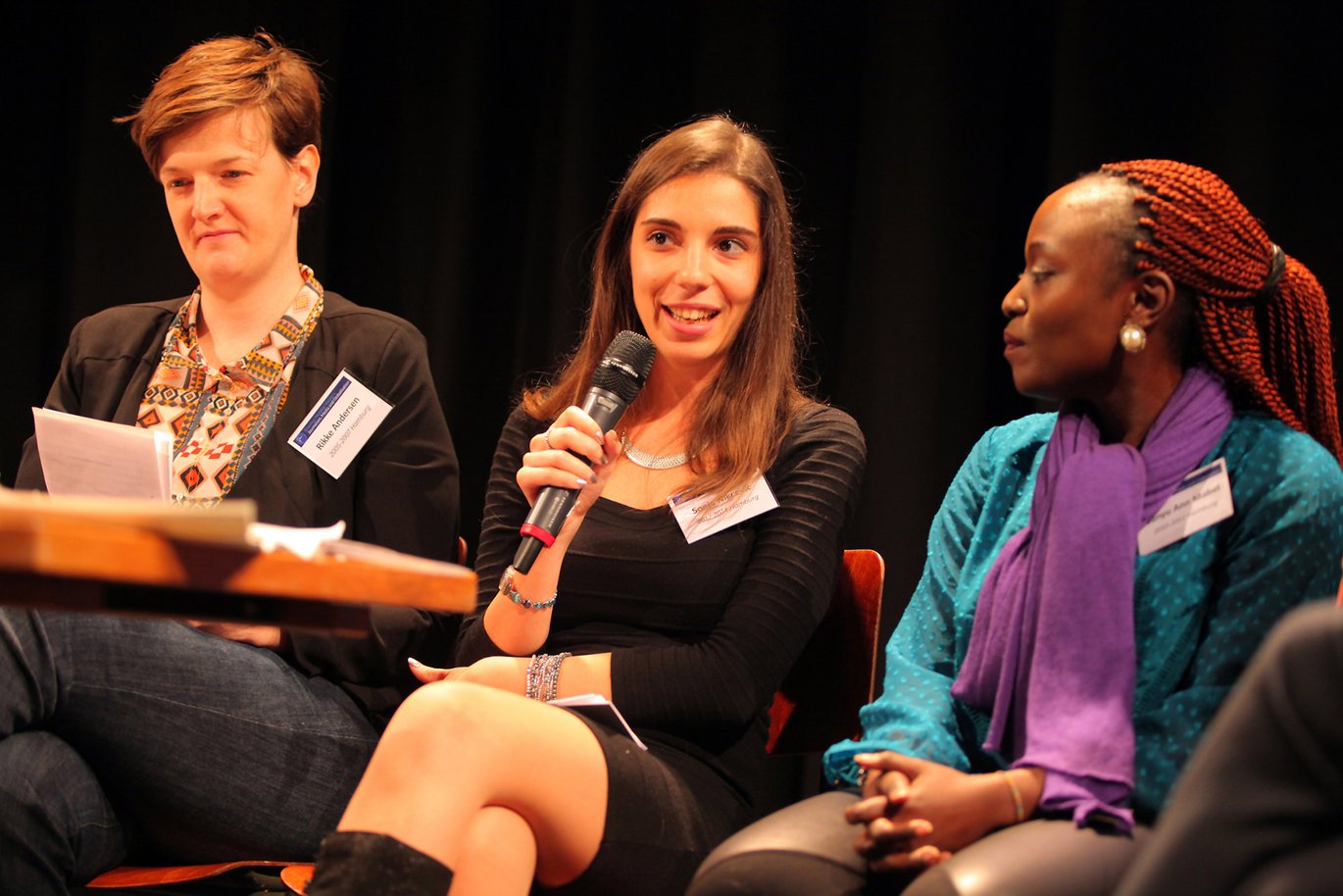 Student Assistant and MA candidate at the Hamburg Specialism, Ellie Sellwood, took the trip from Germany to the Netherlands to attend with classmates from the 2012-2015 cohort. Here she gives her reflections on the reunion - and for all of you who couldn't attend, sumarises a few of the key highlights.
FOR THE EARLY BIRDS like myself, the fun started on the Thursday evening with a casual borrel, held at one of Amsterdam's most popular and edgy art galleries, the Dampkring Original Gallery. During the day, the space exhibits work from international artists and attracts visitors with its now famous coffee shop - which served as a filming location for Ocean's Twelve. On this particular evening the gallery was instead filled to the brim with a lively crowd of Mundusians.
It was a cold evening outside the gallery but the front door seemed to swing open every few minutes as more people arrived. Each one was greeted with warm hugs from programme coordinators Bettina Andersen and Inger Munk. All around the room friends reunited and caught up with each other, while sharing some Mediterranean food washed down with wine, beer and soft drinks. It was a loud and friendly evening, which set the tone for the rest of the reunion celebrations.
See our official photos for the day, over on flickr. Want to add yours? We've got a Mundus Journalism group too! Join here and share your memories.
On the Friday morning the official celebration kicked off at Pakhuis de Zwijger. Set in an old cooling warehouse in the east of the city, Pakhuis de Zwijger is now home to a conference centre, cultural meeting place, arts centre and gallery. The reception area was filled with love and laughter as Mundusians from across the past decade slowly filtered in, everyone greeting each other and picking up their name badges and welcome packs.
A SPECIAL TOUCH to the day was having alumnus Audrey Sykes, from the founding cohort of 2005-2007, on board as reunion coordinator. She kicked off the event with a welcome speech. Photos earlier sent in by alumni filled the screens behind her. The keynote was then given by Mundus Journalism legend Hans Henrik Holm, the long-standing Chairman of the Erasmus Mundus Master in Journalism Consortium board and lecturer for the first Mundus course in Denmark - Globalisation: Reporting Global Change.
Mundusians are 'more charming, smarter and more modest than most'.
Throughout his speech, Hans Henrik discussed current global challenges, with the increase in human migration to Europe a hot topic of reflection. He then analysed the world today using three distinct philosophies. With the typical wit I remember from his lectures, his interpretations of each philosophy included suggested ways that Mundus alumni might set the world right. Mundusians are 'more charming, smarter and more modest than most' he said with a serious face, 'we control key positions in 75 countries and we know whom to call' so he advised us to 'establish a Mundus hegemony'.
It was a heart-warming speech that, like most of Hans Henrik's lectures, considered serious academic challenges with a strong dose of humour. He also told us that this reunion was a profound moment for him, given that he was a key player in bringing the programme together in 2005. He admitted that he had no idea that it would grow to become what it is today, with now up to 500 applications coming in each year. And looking out over us all I'm sure Hans Henrik must have felt pretty overwhelmed, I certainly did.
With this speech he also announced his retirement from his post as Chairman and lecturer for the programme. I've no doubt he will be sorely missed. But as most of us know, he will definitely be keeping an eye on things. He also told all Mundus alumni to ask to meet up with him for coffee, just by telling him where and when – a timely reminder there's always a way to make the most of our global network! As his speech came to a close, everyone in the lecture hall stood to give him a well-deserved standing ovation. It felt a fitting way to express sheer admiration and respect for all that he has done for the programme in the past ten years.
The rest of the day was split into Alumni led talks interspersed with networking sessions that encouraged alumni from all 10 classes to meet each other and share experiences of being on this programme.
The collective take-away message to the alumni community was 'to make the Mundus experience work for you'.
THE FIRST OF SUCH TALKS was led by a panel of alumni who took it in turns to talk about their Mundus Alumni experience and how the course helped them in their careers. There was Daniel Clifford, a senior Editor with experience in Istanbul and China who now works for an engineering magazine; Elco Van Groningen who works as a reporter for Bloomberg Business; investigative freelance reporter Paulette Desormeaux Parra, who works in Chile; Ann Mabel Sanyu who is now pursuing her PhD at Hamburg University; Rikke Skovgaard Andersen who works in policy and advocacy in Denmark, sports reporter Sonja Nikcevic who works for UEFA and Andrew Hercules who works as a developer, designer and digital strategist for Deloitte International. They were all animated and entertaining as they shared lively and exciting stories with us all. Their collective take-away message to the alumni community was 'to make the Mundus experience work for you'.
After lunch there was a series of breakout sessions, where we could choose to attend two different panel discussions led by alumni. There was a total of six different topics including: trends in global media, learning by doing in war and conflict, how to survive as a freelancer, challenges of new journalism and new media, trends in business journalism and the dark (or bright) side of corporate communications.
The day rounded off with an academic discussion led by professor Henrik Bødker who is taking up the reigns from Hans Henrik Holm as Chairman of the Mundus Journalism Consortium and Board of Studies. This represented a great opportunity for former students to officially feedback about their experiences of the programme and the things that could be included and changed in the future.
"Some of us went through the toughest years of our lives to be here."
Assistant professor Teke Jacob Ngomba, another former Mundus student, who now teaches the Researching Journalism module in Denmark, gave the closing speech for the day. He touched a chord when he spoke from his personal experience, saying that 'some of us went through the toughest years of our lives to be here'. It was a reminder that so many of us have invested so much into the programme. He wrapped up saying; 'the meaning of this programme transcends personal gratification' – and in doing so reminded me that the Mundus family 'truly takes care of its own'.
Teke's words resonated and reminded me once more that the Erasmus Mundus Masters in Journalism, Media and Globalisation is more than just an academic programme. Yes, a Mundus student graduates with a Masters degree and is given a piece of paper, but it is an experience bigger than just that. It gives a sense of belonging to a big global community of like-minded people, and throughout the ups and downs of the past two years it has definitely given me the tools to see the world differently and with more empathy. Teke also received a very well deserved standing ovation for his passionate and important speech.
The very last part of the day involved giving thanks to everyone who has been involved in the programme and those who helped to organise the reunion. One person who is particularly close to all our hearts, our 'Mamma Mundus'- Bettina, was surprised with a tribute video full of lots of Mundus students giving thanks. The day ended in happy tears for her, and many others as we took class photos and shared some drinks together before we all left Pakhuis de Zwijger, either to join our year groups for dinner, or to travel home. All in all, it was an incredibly special day for its celebration of the Mundus community and our admiration and respect for each other.
On behalf of the Mundus students and alumni, I would like to thank Audrey Sykes and the reunion committee for the time and commitment that went into organising the event.