Innovative mapping project documents feminist activity around the world
Following the success of Juliana Guarany's bid for a German Chancellor Fellowship, we see how her project has developed - and how it's led to a student/graduate collaboration.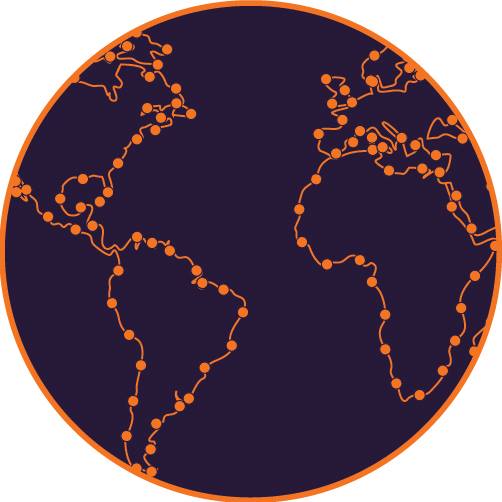 It's the opportunity of a lifetime: You pitch a project drawing on your journalism and app development skills and interest in data mining and online mapping. And then you not only win the pitch, but the world's most influential woman gives you the go ahead to turn your idea for a feminist project into a reality.
That was Juliana Guarany in mid-2014, as she went from staffer at Brazilian magazine Veja to researcher at University of Hamburg after receiving the prestigious German Chancellor Award with a handshake from none other than Angela Merkel herself.
Fifteen months later, Juliana has not only launched FemMap, but she's brought on board two Mundus Journalism students to help drive the initiative.
The Feminist Map of Projects, FemMap, documents all activities and initiatives created by feminist groups, individuals and institutions around the world. It is a collaborative tool that allows activists, journalists and the general public to get access to reliable, fact-checked information about projects dedicated to achieve gender equality around the world. - FemMap
As a collaborative database, the start up operates on a creative commons license and invites anyone, anywhere to upload a project for entry to the map. The entry is then fact-checked by the FemMap team. So far, projects from more than 50 countries across the word have been added.
Along with Juliana, Mundusians Franziska Bauer (Germany) and Irene Pavia (Philippines), both students at the Hamburg specialisation, have been working as assistance on the FemMap projects. Here's a little bit more about what's been involved in that process and how the collaboration came together.
Franziska:
"I got involved thanks to the recommendation of another Mundusian and Aarhus-flatmate Sokunthea Hang, who knew about Juliana and her project. The topic got me interested immediately due to the innovative and cool idea of mapping such an important issue. I got to know all about how women are implementing their ideas of self-empowerment in the greatest variety of ways possible. Some, of course, are top-down approaches, like the UN's, but most are based on the grassroots level. At the same time I know that I only saw a small fracture of what is really going on due to my limited language skills.
"I really enjoyed doing the blog entries, which either demonstrated the activities of some exceptional individuals, e.g. feminist singers, or analysed the status of women in a certain industry, such as the film industry. I also went to the lecture of a famous British author, Laurie Penny, to write about her on FemMap. All this work really opened up new horizons for me and I hope, the project will continue to grow and reach more and more women."
Irene:
"My work included researching projects related to girls and women's rights, feminism and gender equality. Fran and I created profile entries of these projects daily while we alternately write features and more elaborate pieces every Friday. Aside from that, we were also tasked to manage our social media accounts - Facebook and Twitter where we found the opportunity to engage the public in our initiative to collect and map all relevant projects in our website.
Early this year, we made the official launch of FemMap. We sent press releases to different organizations, media and feminist ones alike across the world. Gladly, there were multiple feedback and there were published write-ups on FemMap and Juliana.
FemMap has so much potential as an initiative to make the world informed of the existing projects addressing so many issues on women, gender equality and feminism - to name a few - both locally and globally."
To learn more about FemMap, visit: