Kaori Kohyama on winning an award from the Foreign Correspondent Club of Japan (FCCJ)
Kaori Kohyama, a young journalist and Mundus student to-be from Japan, shares with us her excitment in winning a pen award thanks to her investigation on the religious cult group's solicitation during the pandemic in Japan.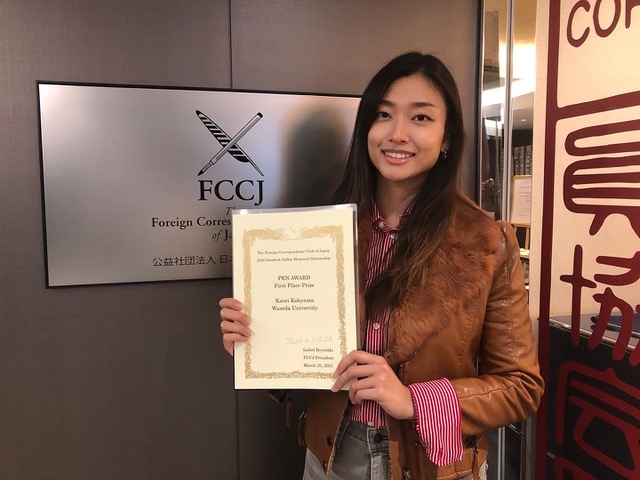 On this blog, we often feature alumni and students talking about their projects and successes in journalism and communication; whenever someone wins an award, gets a grant or a great opportunity, we are happy to celebrate with them and all of the Mundus family around the world!
This story, however, can look slightly different to some: Kaori is not an alumna nor a Mundus student - yet. In fact, she will join the Mundus Journalism Programme in September, moving from Japan to Denmark together with many others journalists from all over the world to start her master's in Aarhus.
Of the hundreds application we receive each year, most of them delineates profiles of excellent journalists and we are happy to welcome them in our network and further train them during the 2-years programme. Today we highlight Kaori's achievement as the emblem of all Mundusians from different generations changing the narratives and contribuiting to a better journalism!
MundusJournalism: Congrats again on the award, Kaori! Tell us a bit about yourself.
Kaori: "I am Kaori from Japan, a (very excited) incoming Mundusian! After graduating Waseda University in Tokyo with dual BA of Political Science (Media and Journalism) and International Relations, I am currently pursuing my first MA at Peking University studying Comparative Gender Studies, while serving as a editor-in-chief of THE LEADS ASIA, an NGO fostering dialogues among East Asian youth. My journalistic interests lie in the areas of conflict resolution, arts and culture, gender equality as well as methods like documentary storytelling."
MJ: How did you get interested in the story that got you the award?
K: "This story is about increased recruitments of religious cult groups in Japan and I got a hint to cover it from my personal experience getting recruited by a friend of mine last year. Thinking about their motive, the keyword that came to my mind was "solitude" in the midst of global pandemic and the consecutive lockdowns. Therefore, I started investigating by interviewing students taking classes from home, examining the cults' newspapers and extracting tweets for the past one year, which eventually drove me to write this story."
Kaori's story was published in the magazine of the FCCJ, on the issue titled "Number 1 Shimbun". You can read it and access the whole publication here.
MJ: How did you feel when you discovered you wone the award?
K: "During the zoom award ceremony, I was genuinely impressed to see the other winning works done by talented young journalists in Japan. At the moment my name was called out for the first prize award, I was totally unprepared. I had to tell my family to keep quiet and let my cat out from my room… before turning my camera and mic on! After hearing the judges' comments, overwhelming gratitude filled my heart especially with all the hardships I had last year due to Covid-19. Winning this award felt as if it is gently pushing my back before I depart for Denmark to embark on my new journey."
MJ: Finally, how do you think Mundus Journalism will help you in advancing your journalistic career as well as your personal development?
K: "Journalistically speaking, I am thrilled to study more about Constructive Journalism while in Aarhus, as well as for the opportunity to get more familiar with innovative ways of journalism in London. I believe these learnings will help me acquire the skills and knowledge required for a journalist who contributes to the well-functioning civil society rather than serving as a mere salary-writer, which is urgently needed especially in my home country. Last but not least, I am certain that the personal connections and the shared-experience I will have with talented and passionate souls from around the world in this truly-global program, will be a once-in-a-lifetime asset in my life.
Thank you again to share this amazing news with us, Kaori! We can't wait to meet you in Aarhus together with all the 2021-2023 Mundusians. Interested in our alumni and students projects and successes? Check out more stories on our blog and follow us on Instagram, Facebook, Youtube and Twitter!