Andreas Schuck on the University of Amsterdam's remodelled 'Politics and Communication' specialisation
The University of Amsterdam has been a long-standing partner on the Erasmus Mundus Journalism Programme from the very beginning. After remodelling their 'Politics and Communication' specialisation for the 2020 intake of Mundusians, we caught up with Andreas Schuck - the Erasmus Mundus Journalism coordinator in Amsterdam to find out what the next cohort of Mundusians can look forward to.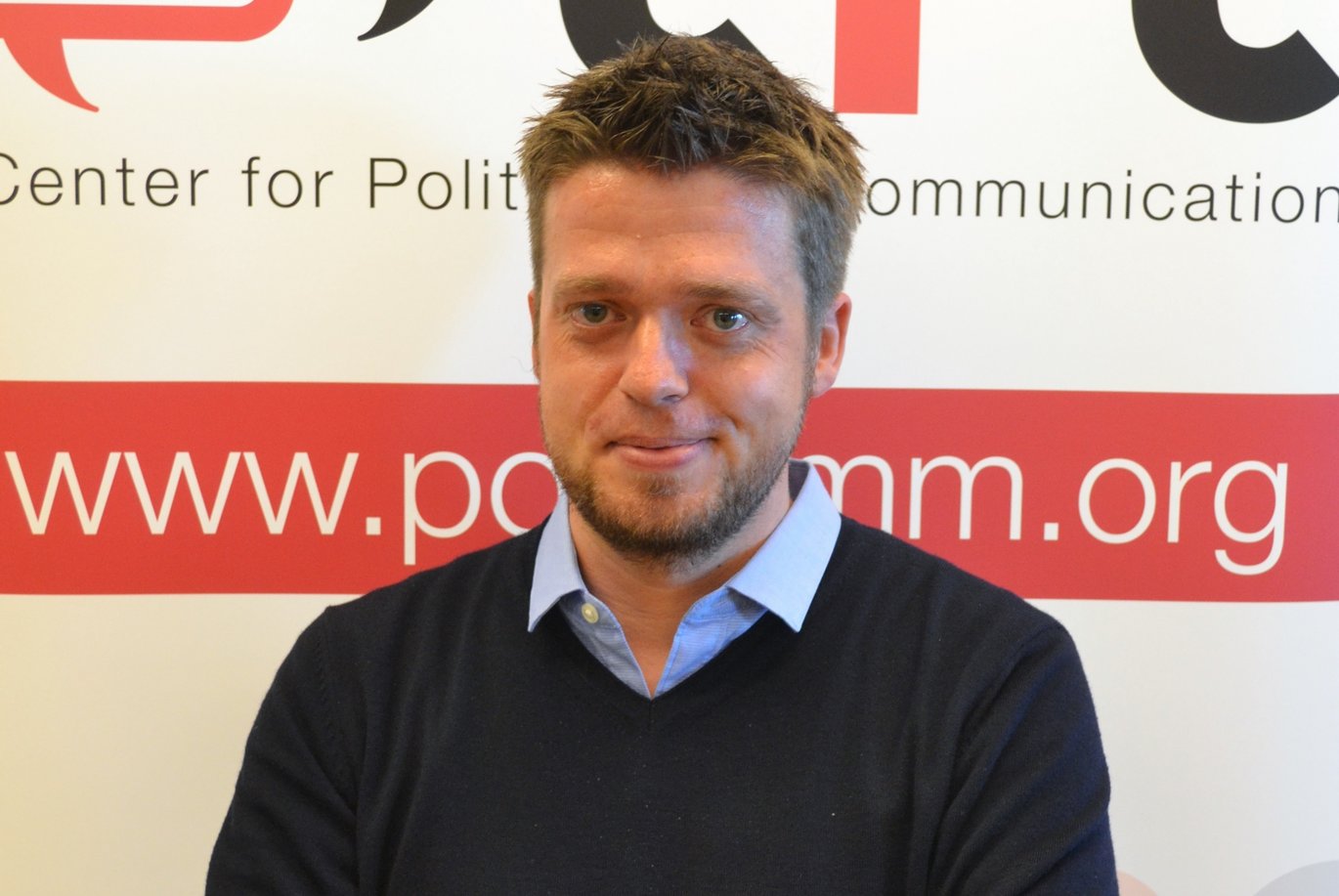 Mundus Journalism: Hi Andreas, thanks for taking part in this interview with us. For those who don't know you, could you start by introducing yourself?
Andreas Schuck: I'm originally from Hamburg, but I moved to Amsterdam back in 2002, and also did my PhD here. I actually got involved with the Mundus Journalism programme really early on and have now been the academic coordinator for the Amsterdam specialisation for more than 10 years. It all started with a guest lecture in Aarhus I was invited to back in 2005. When I got more formally involved, I remember being the youngest guy on the program, sort of the rookie amidst all the 'founding fathers' of the program so to say. Over the years I've built up a lot of identification with this program and it's great to see how it has developed. I have seen its different phases and how it has grown and I really enjoy working with colleagues from the other Mundus partner locations. There is just so much diversity, both on the student side and on the organisational side. Mundus is a very special program, sort of a utopia, but one that has become real. It's demanding for everybody, but also very gratifying and fun. Next to my organisational role as program manager of our track here in Amsterdam, I also teach on the programme.
Mundus Journalism: The specialisation in Amsterdam has recently been remodelled, can you tell us about some of the changes?
Andreas Schuck: Well, firstly, the Amsterdam specialisation used to be focussed almost exclusively on Europe and European politics and that's not the case anymore. Since there still is a lot of expertise and research here on the EU and everything to do with how it is communicated, there still is one module in our track called 'Communicating Europe', which also considers perspectives on the EU from outside Europe. But our track has become more inclusive and covers various different topics and perspectives, from immigration and media to sustainability and climate change communication, to data journalism, political campaigns and the role of emotions in political communication.
MJ: Can you tell us about the different modules on offer and what Mundus students can expect?
Andreas: The 'Journalism and the Media' course is shared with the students of our Political Communication Master program. It's a foundational course about the role and changing nature of journalism and features a lot of guest lecturers and group work. It's an intensive course in which students also train their academic writing skills and it runs over the entire first semester.
The 'Communicating Europe' module is taught by 3 lecturers who all work on this topic in their own research, Claes de Vreese, Katjana Gattermann, and myself. It caters to those students who are interested in the EU, how it is covered and how that public portrayal affects citizens and public opinion, but also to those who come from different backgrounds and want to learn more about the communication challenges of such a supranational union. This is an 8 week course and it includes a trip to the EU representation in the Hague.
The 'Data Journalism' module is new and is taught by Damian Trilling and Penny Sheets Thibaut in the second part of the first semester. It starts when the "Communicating Europe" course ends. We are really happy about this addition to the program because it's a hands-on course specifically focused on data journalism, which is obviously becoming more and more important not just for journalists but for any communications professional too. The course teaches useful practical skills as students also learn how to use software like Python to conduct their own research - and it's designed in a way that it is useful both for students who have already worked in this field but also for those who have no prior experience!
The 'Methods and Statistics' course takes place at the end of the first semester and has been specifically designed for Mundus students to help them to write their Master Theses. Penny Sheets Thibaut teaches this course and it has been very successful. She even received a teaching award for the best student course evaluation at our Department for her work on it, which is amazing considering that courses on research methods and statistics are not usually the most popular courses. This course is only open for Mundus students and the teacher talks to every student about their plans for their thesis and gives direct personal input and advice.
In the second semester students start writing their Master thesis and take one elective course. We currently offer electives in "Investigative Journalism", "Political Marketing" or "Psychology in Political Communication" but this list is constantly updated and thus subject to change and you can also choose to take one of the 12 electives offered by the Graduate School of Communication in the fields of corporate, persuasive or entertainment communication.
MJ: Speaking of the Masters Thesis, what does that look like for students on the Amsterdam specialisation?
Andreas: Students start preparing for their thesis already in the first semester. This takes place in the so-called "Thesis preparation groups" where students meet with a lecturer in groups as well as individually and together work towards a first, initial thesis proposal. This proposal is then further developed as part of the "Methods and Statistics" course already mentioned, so that students actually already have a pretty good plan when they start the actual thesis work with their individual thesis supervisors in the second semester. The Thesis itself is a 25 page empirical research article, exactly like those scientific studies you see published in academic journals. In fact, several of our Mundus students have managed to publish their Master thesis in such academic journals later on, or submitted and presented them at scientific conferences, which we encourage and are very proud of. And whilst 25 pages might not seem that much, don't let yourself be tricked, it's actually really challenging to conduct your own research and write it up in this scientific journal-style format. But many, many students have successfully done so before, and every student has an individual thesis supervisor, so no need to worry.
MJ: What kinds of careers does the Amsterdam specialisation prepare Mundus students for?
Andreas: Well, here at the University of Amsterdam there's a strong empirical research focus. This is what our Department and ASCoR, our research school, is known for internationally. So, on the one hand this programme can prepare students for a career in science and academia and we have seen several of our Mundus alumni starting PhD programs afterwards. On the other hand, research skills also become more and more important and useful for careers in journalism, NGO's, public institutions or international organizations. So the majority of our alumni work in these fields. In recent years, we see many of our students going to Brussels and several of them are working for the European Parliament or the Commission. In fact, I just met one of our alumna who now works for the Commission at the COP25 UN Climate Change conference in Madrid last week, where she co-organized a "citizen dialogue" with EU vice president and Commissioner Frans Timmermans - we had covered these forms of deliberative democracy in our "Communicating Europe" course and she later wrote her thesis about it. Seeing our students moving on like this after their studies and seeing them do things that directly relate to their studies of course makes you really proud, that's just great!
MJ: Right now we're in the middle of the application period, so we're sure that applicants will want to know what the main differences are between the course taught in Amsterdam and the specialisation in Prague. Could you enlighten us?
Andreas: I would say there is a clear distinction between the two specialisations, here in Amsterdam we have a strong focus on empirical research, European and international politics, and the question how different political topics are communicated and talked about publicly and how that affects citizens and public opinion, whereas in Prague students will focus on media in post-totalitarian contexts.
At the University of Amsterdam the focus is not on practical training in journalism, but on empirical research and critical reflection, we are a research university first and foremost and that's what we are known for. So you will not see anyone running around with a camera here, that's important to know and I can't stress this enough: our focus is on empirical research and critical reflection. However, there is a practical element here in Amsterdam too. The Master thesis does require you to create a so-called "journalistic product", based on your thesis research, so you could be engaged in creating a short documentary or a multimedia report, for example.
In this way, there is a practical journalism aspect on offer here too. We have a partnership with Radio Netherlands Worldwide (RNW), the Dutch public broadcaster, where some of our students also do internships, and all our students participate in a workshop with their training center to prepare for their "journalistic product". Students can customise their workshop experience and choose from different modules, such as digital storytelling, video editing, virality and vlogging, podcasting, interviewing etc. After finishing the program, there are also awards both for the best written thesis as well as for the best journalistic product.
Thank you, Andreas, we're looking forward to hearing all about the new course in the future.
If you'd like to find out more about the specialisation in Amsterdam, have a look at all of the course descriptions here. We've also put together a City Guide for you to find out more about living, working and studying here. All you need to do is get your application in for the 'Politics and Communication' specialisation before January 10th, 2020, 12:00!