Alex Westcott Campbell on academic publishing, open access and digitisation
In this alumni profile, we talk to Alex Westcott Campbell about her career as a Publishing Editor at Springer Nature, the future of open access publishing, and the scope of digitisation in academic research.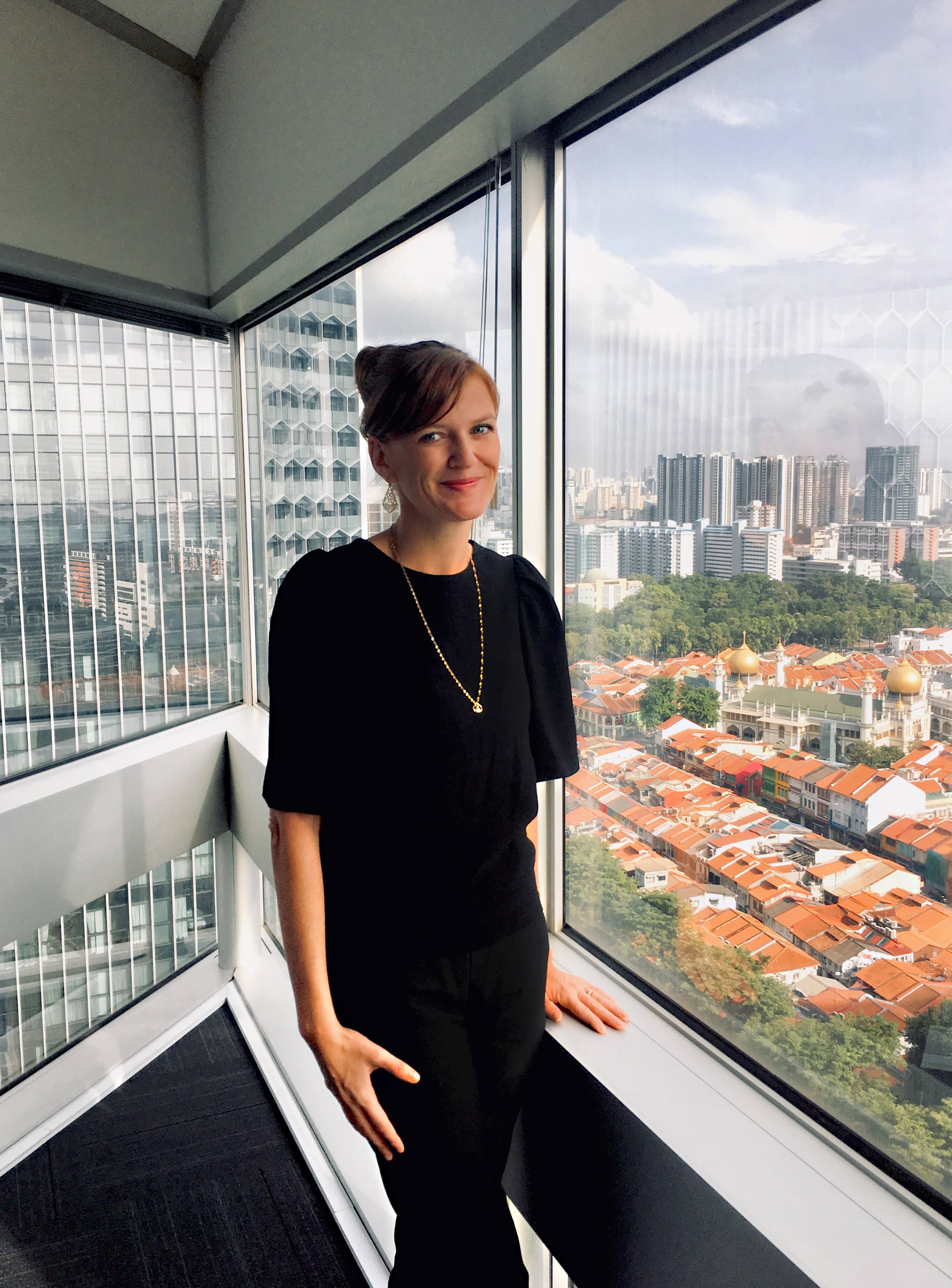 Alex Westcott Campbell is a Publishing Editor in the Humanities and Social Sciences department at Springer Nature in Singapore. She graduated from Mundus Journalism's Swansea specialisation in late 2015. Alex's career as an academic editor began after the Mundus Journalism programme when she moved back to Southeast Asia, where she'd previously been living. This work is, in many ways, the result of the culmination of her professional skill set to date. Before her MA, Alex spent a few years honing her journalistic skills by working for magazines and newspapers in sub editing, writing and photography. She worked for various media companies in her home country, and later on in Singapore and the U.A.E. More recently, her work in Singapore earned Alex the 'Editor of the Year Award' 2017 from the Media Publishers Association of Singapore. We asked Alex to share a little more about her career progression.
Mundus Journalism: You have established your career both as a journalist and now as academic publisher. How did you progress your career in this direction and how do you compare working in publishing industry to working as a journo?
Alex: I worked in various writing, editing and photography roles in South Africa, the U.A.E and in Singapore before I applied for Mundus Journalism programme. After graduation, I moved back to Singapore where my husband had a job. I took up a position at a locally-owned regional magazine here as an editor, but I was keen on getting involved in academic publishing to remain connected to academia. It was initially tough, as the academic publishing circle is a small one here. After networking through LinkedIn with some academic editors here, I then applied for a job with Springer when it was advertised in late 2017.
Working in academic publishing is not altogether different to working for the print media industry, and I did not find the jump from journalism to books and journals that different – so much of the work that I was doing while working in the media is similar, from sub editing to commissioning and working through the production process. The skills are much the same, and the challenges that media and academic publishing companies are facing are aligned: for example, consider the move to crowdfunding in journalism and open access in academia, and how the industries have navigated the move from traditional subscription publishing models to free or open access online. The question of what value academic publishers can still add to researchers is comparatively similar to the question of what value mainstream journalists add to the industry within the blogosphere. I maintain the argument of relevance for both groups: that we serve as a means of gatekeeping the quality of knowledge and information.
Mundus Journalism: What does your work as the Editor Humanities and Social Science entail and what set of skills are essential to ace the publishing industry?
Alex: I look after the humanities and social sciences subject collections in Southeast and East Asia. The core of my job is commissioning and acquisitions – attending relevant conferences and visiting university campuses around the region. This is what I love most about my job, as no one week is the same. Beyond the networking and engaging with the research community, I evaluate book proposals, talk to academics about their research, and conduct some content editing and search engine optimisation to ensure visibility of the work – a whole new, but vital, skillset in the Internet age. In this sense, my job is not so very different to a digital editor's job. A major difference is the production cycle: I started out with a 12-hour to one-week turnaround schedule in newspapers and magazines, whereas books can take years to see from start to finish. I still have the deadline orientation I did when working in journalism. I have heard someone compare the book editor to a mid-wife. I think that's an altogether accurate comparison!
I think part of this conversation is also about how to make information more accessible and interactive by using multimedia tools.
I would say that to progress in the field of academic publishing as an editor, copy editing is a key foundational skill. Many publishing editors come from a production background, but it's not uncommon for them to also have a background in marketing. Editors doing acquisitions combine editorial and marketing roles. Part of the work is how you market the book, whether it's by doing publicity on social media, book launches, lining up your authors for interviews, or sending books out for reviews in journals. SEO comes into that again: channelling the metadata to angle how the book will be disseminated, and which audience it will reach.
Multimedia skills are also becoming more relevant to academic publishers. For example, we can now have authors do video abstracts, produce audio books, and integrate video links into their work. I think part of this conversation is also about how to make information more accessible and interactive by using multimedia tools. I visited a university recently where their design and media department has created an app that can generate 3D images and videos from a static jpeg in print, much in the same way that a QR code works. Previously, having visual literacy was also very important when it came to be thinking about a book's cover, but that has become somewhat obsolete since books are sold into libraries or online, and not so much into book stores.
The ability to talk to researchers from different countries and cultures – and from different subject disciplines – is essential. Engaging with these different communities requires cultural sensitivity and intercultural communication skills – which the Mundus Journalism programme really helps cultivate! Academic acumen, and a familiarity with and an interest in the social sciences and humanities subject areas and methodologies are also very important in my role. I published my dissertation in an academic journal after the MA, and this was a very helpful experience, having gone through the peer review process. I think you also need a kind of intellectual dexterity and curiosity in very different types of research – one day you're discussing bioethics, the next it's gender rights – so an element of interdisciplinary intrigue helps. It goes without saying that you also need to love reading and learning. I've just started a second postgraduate course, this time in English Literature, part-time, studying approaches to texts, book history and editorial theory.
I think you also need a kind of intellectual dexterity and curiosity in very different types of research – one day you're discussing bioethics, the next it's gender rights – so an element of interdisciplinary intrigue helps.
Mundus Journalism: The concept and use of Open Access (OA) is becoming more prominent in academic publishing. How do you assess this trend to the academic publishing sector in Asia?
Alex: OA requires a funder to pay for the processing charges of a book or an online article in order to make it freely available to readers. There is a lot of discussion in academia at the moment on how to best implement open access, particularly as more funders demand it, given new policies such as Plan S in Europe. There is much debate on how these fees should be structured, for example: how to take into account different economies? The publishing industry in North America and Europe is pushing the OA agenda hard, but in Asia, I think we are still behind on this. There is a fraction of open access funders in this part of the world when compared to the West. China's academic environment has exploded in recent years, and the Chinese government and academic institutes are directing a lot of money into their research, so it will be interesting to see how the publishing models will be impacted by this in this region.

Mundus Journalism: Digital is now a big part of the publishing industry worldwide. How has digitisation of content influenced academic publishing?
Alex: Digital is, of course, overwhelmingly a part of the conversation. There is an increasing number of digital platforms to share research online. As a result, there is a concerted effort to create more digital tools to create interactive experiences that allow for greater accessibility to knowledge, which translates to greater impact. Springer has over 175 years of publishing under its belt, and the merger with Nature and Palgrave Macmillan a few years ago has led to combined clout across subject areas. The first aspect of moving into the digital age was to create online archives of all the work that went before the Internet. Interestingly, if you see a global breakdown of eBook readers and where they come from, the highest percentage is from Asia. Springer Nature currently reaches around 250 million researchers every year, and this reach has absolutely been enabled by the digital revolution. Still, as someone who still prefers reading in print (and who has only just recently attempted a Kindle), I think paper still has its place. Neuroscientific research has shown that our retention of information is, on average, better when reading print compared to e-versions.
Mundus Journalism: Winning 'Editor of the Year' is a great journalistic accomplishment - what is the story behind it?
Alex: I was editor for a regional magazine called Asian Geographic. Despite being in an environment where print media is struggling, our team managed to increase the subscription to the magazine. We also set up a website (which didn't really exist before that!) and I like to think that we ran some stories that pushed the boundaries of what the overwhelmingly conservative media in Singapore usually covers. Of course, there are always limitations. Still, we ran issues on climate change, cultural and political issues (with a really great cover of Ai Weiwei) amongst others. The move to a digital content platform, a perceptible effort to cover stories that had a more topical edge, and a really fantastic art director as my wing-woman led to our work being recognised, respectively, at the 2017 media awards. It was a good end to that job before I started in my current role.
Alex Westcott Campbell is a South African alumna from the 2013-2015 Mundus Journalism cohort. She specialised in War and Conflict reporting at Swansea University.