State-of-the art programme
The Mundus Journalism MA programme gives you state-of-the-art insights into the current topics within journalism, media and globalisation. The curriculum combines academic, theoretical knowledge with journalistic skills to improve your ability to analyse, interpret and understand the global changes that increasingly challenge traditional boundaries between media, politics, technology, and culture. All in all, the programme prepares you to work practically towards improving and maintaining the societal and cultural legitimacy of journalism globally.
A vibrant and international community
Join the Mundus Journalism programme to engage with peers and staff from more than 100 countries across the globe in an ambitious, interdisciplinary and multicultural environment. The Erasmus Mundus Journalism master's degree offers you a truly unique and international educational experience. At Mundus Journalism, you will study at leading universities in at least two European countries, work with top researchers in media studies, political science and journalism, and gain an outstanding professional network for life.
We offer Mundus scholarships of up to €49,000
We expect to offer 22 Erasmus Mundus scholarships for the 2022-24 programme, hence, around 25% will be offered admission as scholarship students, while 75% will be offered admission as self-funded students.
The Erasmus Mundus scholarships cover tuition fees, insurance, a contribution to student travel and installation costs, as well as a monthly subsistence allowance for the entire duration of the study programme.
Customise your Mundus Journalism degree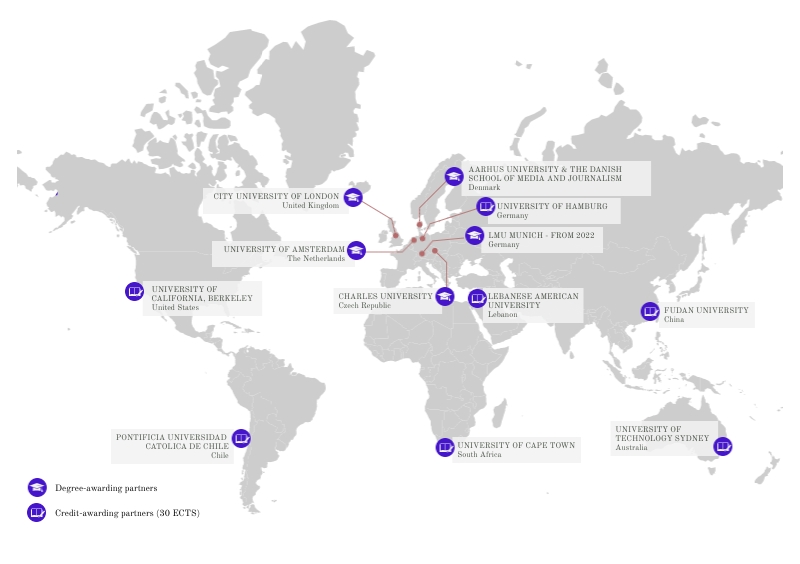 Year 1: Studying in Aarhus, Denmark
All students spend the first year of the master's degree in Aarhus, Denmark studying at both Aarhus University - taught by faculty from the Department of Political Science and the Department of Information and Media Studies - and the Danish School of Media and Journalism.
The aim of the first year is to give you the analytical skills needed to identify and analyse cultural, political, and technological challenges to and opportunities for journalism across the globe. You will also learn how to integrate this sophisticated theoretical understanding with practical approaches to assert journalism within a public sphere that is undergoing decisive changes.
You can customise your studies by choosing to take electives or an approved internship as part of your second semester. Or you can apply (after course start in Aarhus) to be one of the selected students who can study their second semester (30 ECTS) at one of our prestigious credit awarding universities:
Berkeley University of California in USA
Pontificia Universidad Catolica de Chile
University of Technology Sydney in Australia
Fudan University in Shanghai in China
University of Cape Town in South Africa
Lebanese American University in Lebanon
University of Hamburg in Germany
Year 2: Studying in either Amsterdam, London or Prague
In the second year, you will be able to specialise in the area of your choice to delve into field-specific topics and strengthen your reflexive journalism skills. In the 2021-2023 programme, we are offering the specialisations listed below, while we expect that we will be able to add a fourth specialisation called 'Cultures and Contexts' at Ludwig-Maximilians-Universität München in our 2022-2024 programme.
Specialisations in the 2021-2023 programme:
While the specialisations in Totalitarianism & Transition and Business & Innovation offer more practical journalism training, the specialisation in Politics and Communication is more theory-oriented and focuses on substantive issues and empirical research analysing the content, production, and effects of journalism and other forms of political communication. While some of the Amsterdam courses, as well as the thesis, offer the opportunity to engage in practical journalism, this specialisation does not offer practical journalism training as such.