Student Showcase
Planet Mundus Radio – On air in Aarhus
Gustav Hoejmark-Jensen on his first live on air broadcast and what makes student radio such a good experience.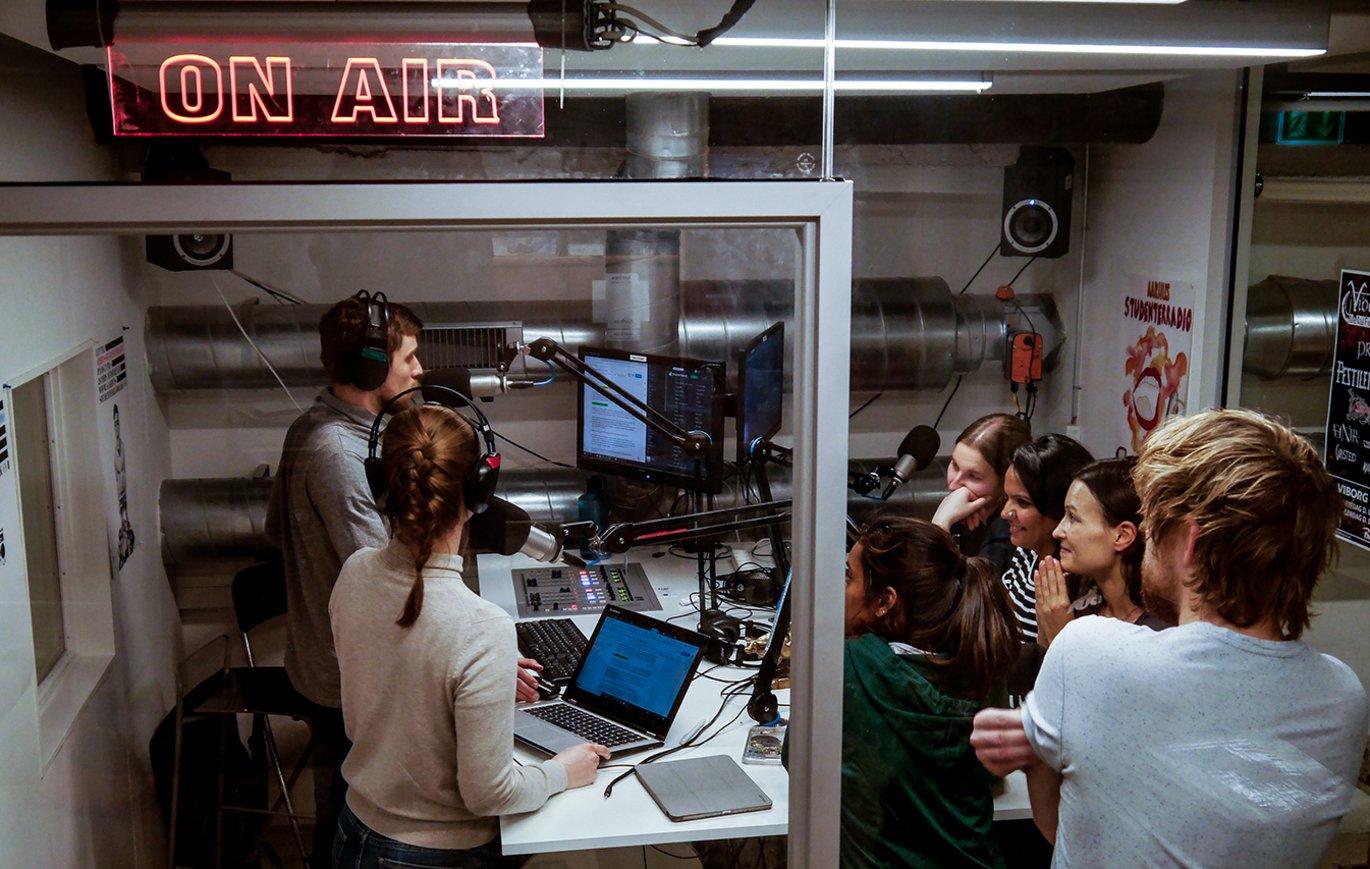 When I first arrived in Aarhus last September, I had only worked in print and digital media, and I had only had the chance to experience the magic of a radio studio behind thick Plexiglas windows from a producer's control room.
But last week, I suddenly found myself with a microphone in front of me, waiting for the music to quiet down before being asked a question on live radio. No chance to rewrite or spell check, communicating across radio waves in the ether of Aarhus on the Planet Mundus Radio show.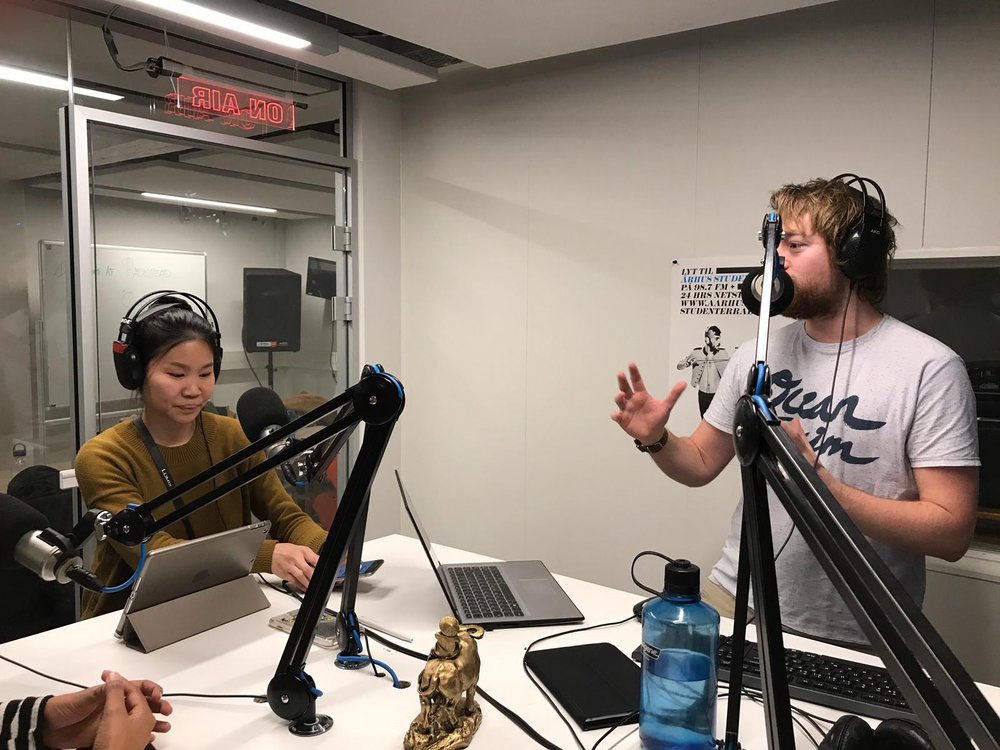 Planet Mundus – A chance to try out radio and make mistakes in the process. Photo: Lisa Marie Lechner.
5 years of student radio
As a Mundus Journalism student in Aarhus, you have a great opportunity to be a part of—and even produce—radio shows in live, pre-recorded and podcast formats for Planet Mundus Radio.
Planet Mundus is a radio station and online platform, originally formed in 2014 by the 10th Mundus Journalism cohort. Many of the formats and shows that were started in 2014 are still produced today.
The radio studio is situated underneath the yellow brick student house at Aarhus University (in very close proximity to the university bar), and has all the modern technology that a small radio studio needs. Studio time is booked online and access to the four high-quality condensation microphones, mixing boards and recording and broadcasting software, is via key-card.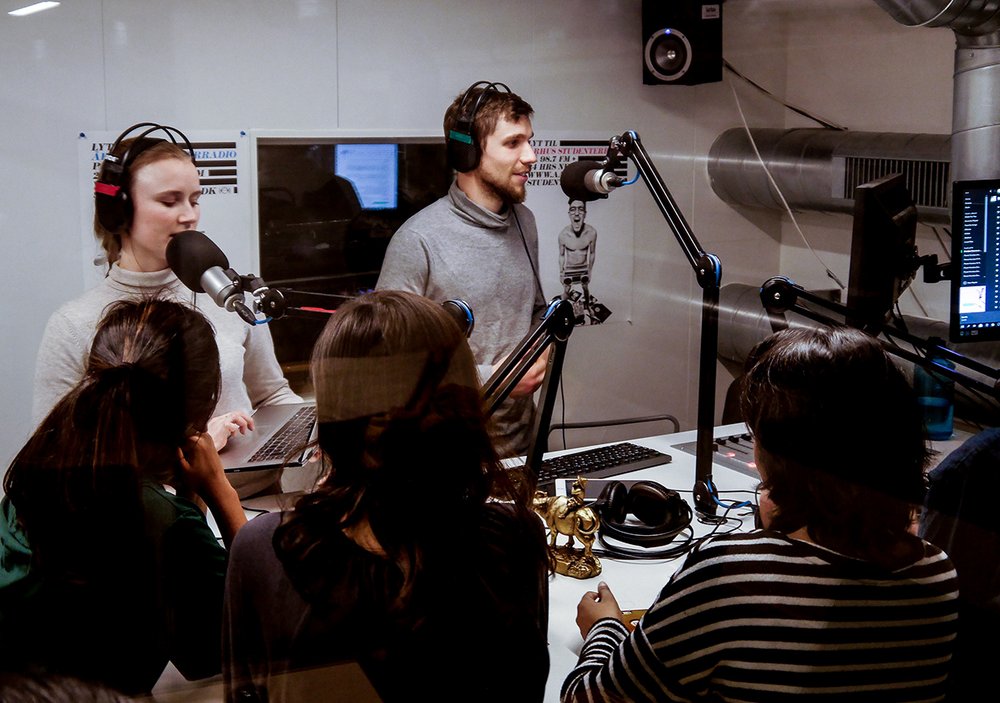 The studio underneath the student house is spacious enough for many curious Mundusians. Photo: Kankanit (Gun) Wiriyasajja.
Showtime

Many different shows are produced by the Mundus Journalism students every week, including the weekly live show 'Planet Mundus' that covers many topics as well as guiding students to fun events around Aarhus during the week.
The Planet Mundus show is a setting where you can test or improve your skills as a live-radio host, while also covering interesting topics. The most recent topics have included Brexit, the dispute of the Kerch Strait, Black Friday and commercialism. They can be found and listened to, here (link).
Planet Mundus is broadcast live online and on the Danish radio frequency 98,7FM every Wednesday from 6PM to 7PM.
New formats welcome

Planet Mundus Radio is also a place to play with new formats:
Currently, a team of students are trying out the format of Slow News, where they broaden out the perspectives of a certain topic, and take their time to explain it properly, in an attempt to un-break the news.
The Slow News team has longer deadlines, but they have already published four editions in podcast form. This includes one about how internationals in Denmark experience crises back in their home countries, and another about the crises in Venezuela, taking a closer and non-rushed look at why some states have chosen to acknowledge Guaido while China and Russia continue to acknowledge Maduro - and how it is seen by some as an ideological battle between socialism and capitalism.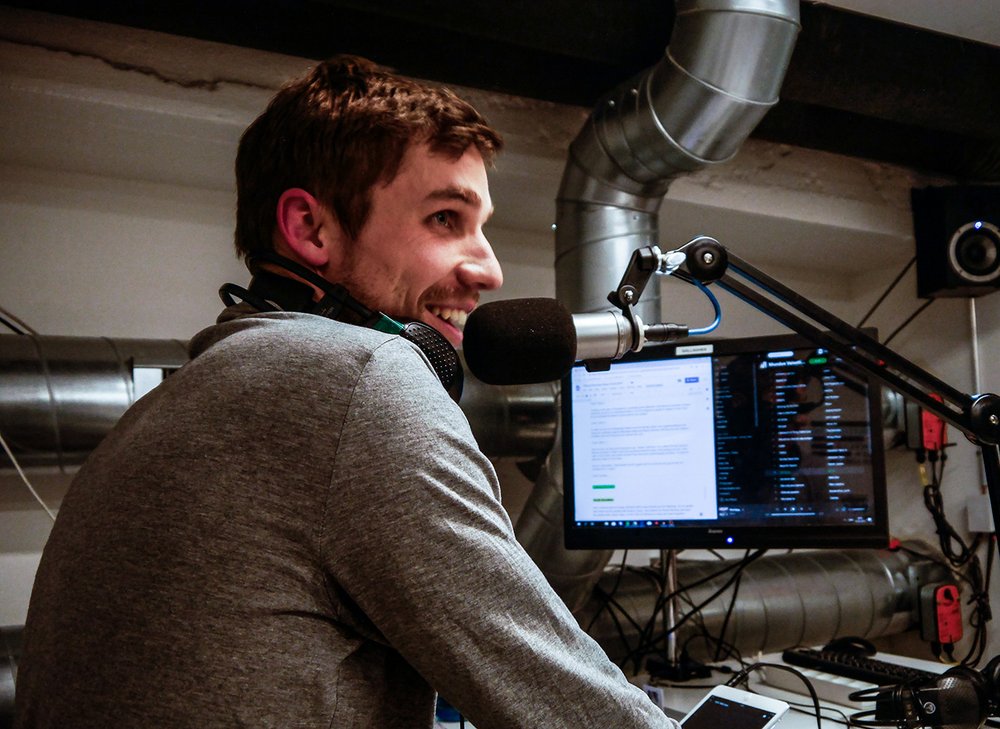 The Planet Mundus Radio platform is completely shaped by the students, and those, like Lukas Scheid, with more experience are keen on helping teach their classmates. Photo: Kankanit (Gun) Wiriyasajja.
Editorial freedom
Everything from the hosts to the topics are up to the Planet Mundus Radio team to plan and produce. This means that everyone can try out the radio format.
Without having any previous experience with radio, Simran Thakral co-hosted a segment on Valentine's Day during the live Planet Mundus show:
"I joined Planet Mundus because I had never done radio before and wanted to give it a try," she told me. "I figured student radio is the best place to start, as it's a space for us to learn and grow. My first segment was not too bad. I wasn't that nervous and for the most part, was able to speak confidently. It was just towards the end that my co-host and I almost burst out laughing! But I just tried to recollect myself and improvise a bit to keep the show going."
On Planet Mundus there is room for mistakes, and there are also fellow students with more experience ready to help out, like Lukas Scheid who has previously worked professionally with radio. In his opinion, basic journalistic passion is the only thing necessary to produce great radio:
"It's always great to create something with fellow students that have the same mind-set. And if what you're creating is related to a professional passion, that makes it even more inspiring."
Back in the studio
Hearing the music being turned up again after I answered a question about Valentine's Day traditions in Denmark, I, ironically, felt my heart racing - but one thing is certain:
Whether it is live radio, recorded segments or podcasts, stepping inside the Planet Mundus studio and seeing the "On Air" sign turn a glowing red is an exhilarating experience for everyone with a passion for journalism.
If you are curious about the radio and shows, you can find all previous and future shows and podcasts here: https://www.facebook.com/PlanetMundus/ _blank and you can check out the rest of the Student Radio organisation here: http://aasr.dk
You can also follow Planet Mundus on Instagram via @Planet_Mundus and on Twitter via @PlanetMundus.
Playlists for the radio shows are searchable on Spotify by searching for: "Planet Mundus". The full Planet Mundus show is also on Spotify, listed by date.