Student Showcase Alumni Graduate Profiles
Mundus Alumni meet to share tips on how to start a career at Deutsche Welle
At the recent Mundus Vision Corner session, in Hamburg, alumni working at Deutsche Welle talked about experiences and skills that landed them a job at the German public broadcaster.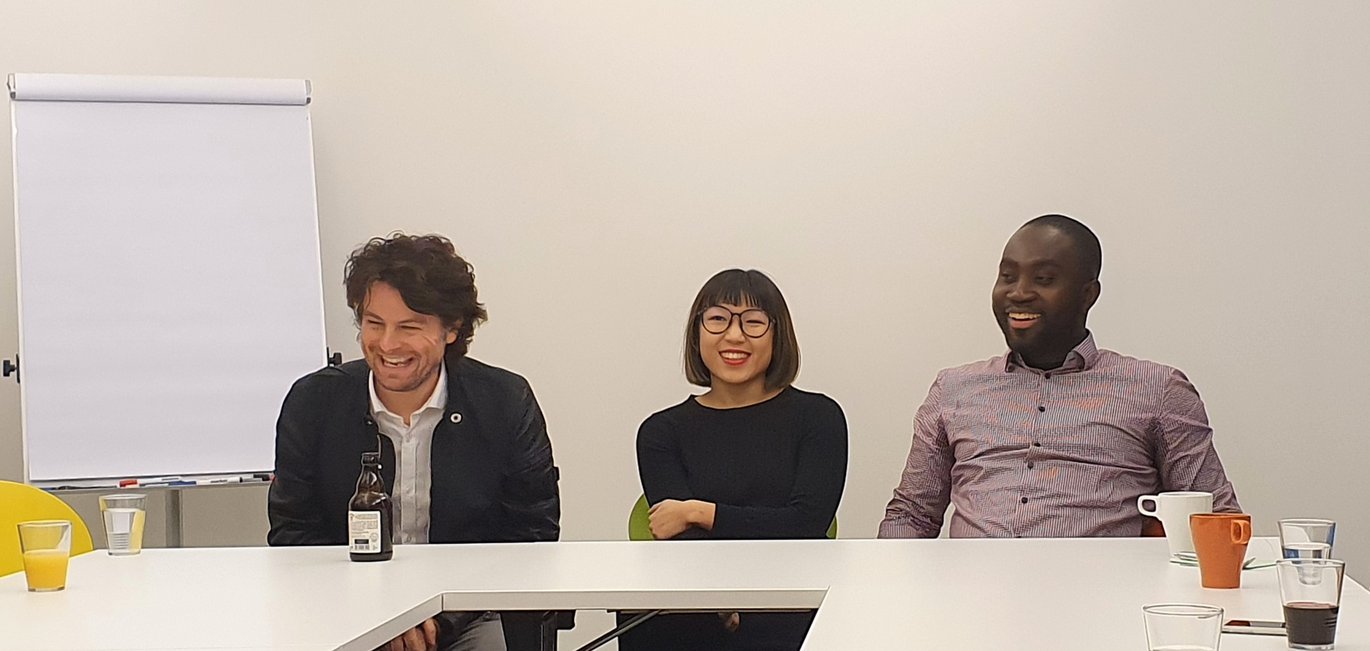 In January, Mundus alumni Cherie Chan, Eddy Micah Junior and John Silk came back to their alma mater Hamburg University after graduating a few years ago.
This time, they were not there as students but, as Deutsche Welle journalists to discuss journalism careers and career skills with current Mundus Journalism students. This session was organized by our Hamburg Specialization programme as a part of the Mundus Vision Corner discussion series which aims to share alumni experiences of progressing careers at media institutes.
Advice on how to kickstart your career after graduation
Cherie, Eddy and John all began their careers at the DW with an internship after graduating from Hamburg specialization in 2016, 2017 and 2019 respectively. They all then used different skills to survive and stay at the DW after their internships ended.
For Cherie, an internship with DW's Asia desk was the starting point of her career after graduation. Originally from Hong Kong where she worked for online, print and broadcast media based in Hong Kong, Mainland China and Cambodia, Cherie is now a social media editor and contributor at Deutsche Welle in Bonn. She landed this job due to the culmination of different factors.
"My experience of working in HongKong and my knowledge of Asia helped me stand out during my internship at the DW. Additionally, the Intercultural knowledge that I gained during my two years of studies on the Mundus programme helped me when it came to creating content for social media for different audiences - all of this gave me an advantage in my work."
For Mundusians who want to become a social media contributor and editor at DW like Cherie, she says:
"Start by getting an internship at Deutsche Welle. During the internship, make your expertise known and present your expertise well."
Like Cherie, Eddy's career at the DW also began with an internship. Now a broadcast journalist for DW Africa, Eddy worked as a social media and broadcast journalist in his home country Ghana for over 10 years. Eddy knew he wanted the same career after graduation and applied for an internship at the DW office in Bonn while studying on the Mundus programme. DW accepted Eddy as an intern, while he was writing his thesis in Hamburg. For Eddy, it was his knowledge of African languages that made him a good fit for DW's English African department in 2017.
"I did different things during the internship like radio reporting and social media. I also started working with a colleague from Kenya on an idea for a programme which we called 'What Else?'. The idea was that we see a very stereotypical representation of Africa in the Western Media in general, as there is usually only coverage on poverty and disease. We wanted to show audiences what else we, in Africa, are made of other than stereotypes."
Eddy's involvement in the work additional to his internship mandated tasks like pitching this programme idea made him stand out as an intern and landed him a contract with DW.
To the Mundusians who would like to follow his career path, Eddie says:
"When you are exploring opportunities, don't wait for an opportunity to open up. Be ready to send an unsolicited application. And, be ready to get rejected. When accepting a job or an internship, be proactive. Push your ideas and make them stand out.."
Unlike Cherie and Eddie, John didn't start working at DW immediately after graduation. Originally from the UK, John had worked as a journalism and communication professional across Europe, Africa, Latin America and in the UK before he started the Mundus programme in 2016. After graduating from Hamburg, John started a 6 month long traineeship with the European Commission. During this time, he looked for jobs and applied for internships but, because of the challenges that Brexit and his UK nationality posed in the EU, it became difficult for him to get in anywhere.
"I applied to hundreds of jobs after graduation and got rejected. I applied for an internship at the DW and got rejected there too"
John didn't let this discourage him though. He used his time at the EC to learn different skills and kept on applying for jobs. This worked out well for him as the DW hired him for the English news team in Bonn in 2019 where he now contributes news content, podcasts and videos for the web page.
To Mundusians who want to follow a career like his, here is what John has to say:
"If you don't find the job you want, don't be disappointed. Get different experiences. Learn a language. Teach a language. And come back to the job market later.Be ready to reapply to the same organisation and be ready to get rejected again."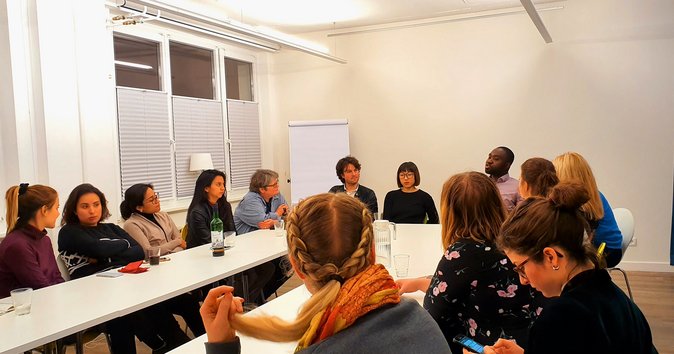 What skills do you need to ace your job?
The first skill that you need to be successful as a communication professional in Germany is, well, the German language. If you work mainly with international languages like English, you can get by your day at work easily without knowing a lot of German. Although, Eddie says, "It can hold you back from expanding your horizons." And by that he means that not knowing German language well can mean that you can't take up journalistic opportunities at work where you need to speak German, like covering local events, which doesn't bode well for your career.
Cherie feels the same way about German language skills. Like Eddy, she doesn't have to use a lot of German to get her work done, but, she says that knowing German opens up a lot of professional roles in the form of opportunities that require communication in German. This is true in the case of John who has to use plenty of German in his day-to-day work.
"For my work, I can't get by without knowing a good level of German. I have to communicate with the HR. I need to communicate with the picture desk where everyone speaks German. For such a role, you need to know at least B1 level of German".
Other than German language, you need to have skills like audio, video and text editing, news writing, research, critical thinking and ability to work fast working under short deadlines and stressful situations.
As Cherie points out:
"Working for a news website means that you have to be available on your desk to break news all the time during the 8-hour shift. Work is very fast paced. You have to multi-task every single minute. You have to catch up on the news. You have to continuously look at wires to see what is news.. You have to research topics. Attend meetings. Make presentations. Find stories that your audience does not find boring. You have to coordinate with other departments. It is all stressful but a part of the job. And, you should have the ability to be productive in this stressful routine."
For Eddy, among other skills what has been helpful is critical analysis and knowing how representations work in the media content. Eddy says that he learnt these skills during his studies in Hamburg where he was taught to analyse visuals and the socio-political constructs that they represented. It was also during the programme that he learnt to critically analyse different viewpoints and develop his own opinions. Developing these skills has helped him at work in many ways.
"When you are dealing with Africa, you have to discuss different topics of news and debate as to why to choose one topic and drop another. We cover news from Africa from a Western perspective and you have to give it meaning for audiences of both western and non-western backgrounds."
This is where his training from the Mundus programme which allowed him to work with people from different cultures, regions and realities comes in handy, he says.
Their advice for Mundusians entering the job market?
When applying for jobs, make your CV short and clear. Not more than two pages. Highlight your most unique skills and background that make you a perfect fit for a specific desk. If you can do that, along with your portfolio, also make a short video introducing yourself and your work.
In the end, be creative. Be persistent. Be patient. You will be up the ladder in no time.